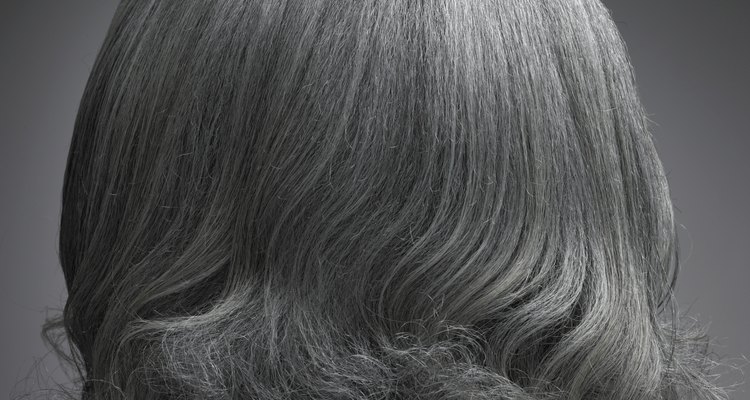 Christopher Robbins/Digital Vision/Getty Images
If the thought of allowing your natural gray to shine through drums up images of wiry, unmanageable tresses, you may vow to never let that silver hue see the light of day. Gray hair does thicken and become courser, but that doesn't mean that you have to look like the bride of Frankenstein. A complete change-up in your hair-care routine will fix the problem just fine. Add a little much- needed moisture to your tresses to really let that silver mane shine.
Step 1
Ask your hair stylist to cut your hair at shoulder length or shorter, because longer lengths cause gray hair -- which is wiry and coarse -- to look frizzy and flat.
Step 2
Wash your hair with a moisturizing shampoo and a whitening shampoo. Squeeze a dime-size amount into your palm, then add an equal amount of whitening shampoo. Rub your hands together to mix the two shampoos. Massage the shampoo mixture into your hair for 30 to 60 seconds. Rinse your hair with water until it runs clear.
Step 3
Spread a deep hair conditioner over your scalp and hair once a week. Leave the conditioner on for 10 minutes, then rinse it out thoroughly.
Step 4
Once a month, apply a clear gloss or glaze designed to prevent yellowing and staining in gray hair. After shampooing your hair, squeeze a quarter-size amount of gloss or glaze into your hands and work it through your hair and scalp. Leave the gloss on for 10 minutes, then rinse it out.
Step 5
Use a wide-tooth comb to style your hair and and pull it through gently to the ends.
Step 6
Opt for styling products that are clear, as they don't contain dyes which may cause your gray hair to turn yellow. Use a dime-size amount of a clear styling serum or gel to hold your style in place.
Step 7
Use a blow dryer with no heat or at the lowest heat setting. Hold the dryer no closer than 6 inches from your head to prevent damage and frizziness.
References
Tips
Whitening shampoos contain bluing tints, which counteract yellow coloring in the hair. Purchase them at hair salons and beauty supply stores.
Warnings
Overuse of whitening shampoos can create a blue or purple tint in the hair. If this occurs, reduce the frequency with which you apply them, or reduce the amount of whitening shampoo that you mix with the moisturizing shampoo.
Writer Bio
Kimberly Johnson is a freelance writer whose articles have appeared in various online publications including eHow, Suite101 and Examiner. She has a degree in journalism from the University of Georgia and began writing professionally in 2001.
Photo Credits
Christopher Robbins/Digital Vision/Getty Images