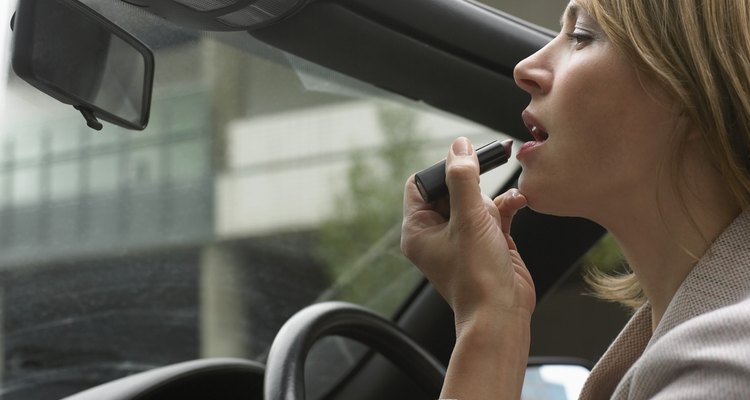 Digital Vision./DigitalVision/Getty Images
Revlon, the manufacturer of Colorstay lipstick, claims its product lasts for up to 16 hours and provides moisture and shine. The lip color comes in a variety of shades, ranging from pale pinks and tans to purples and mauves or bright, classic reds. The ingredients are listed on the back of each lipstick package. Though the color additives may vary by lipstick shade, the colors used are listed on every shade.
Lipstick Base
Revlon Colorstay lipstick base is made with moisturizers, emulsifiers, preservatives and ingredients to give the product texture and substance. Dimethicone and methicone are silicone-based moisturizers. Propylene Carbonate is a hygroscopic chemical that pulls moisture from the air to your lips. Trimethylsiloxysilicate and polyethylene pull in moisture and form a film, allowing the lipstick to dry in place, as stated by "A Consumer's Dictionary of Cosmetic Ingredients." Methylparaben and propylparaben are preservatives with anti-microbial, anti-fungal and anti-bacterial properties. Methylparaben and propylparaben extend the lipstick's shelf life and keep potentially harmful microorganisms from growing in the lipstick. Sorbic acid and BHT, or butylated hydroxytoluene, are two more preservatives used to keep the ingredients in the lipstick from degenerating over time. Isododecane allows the lipstick to spread easily. Disteardimonium hectorite keeps the colors and pigments from degenerating, while C12-15 alkyl benzoate thickens the lipstick and adds moisture. Serica, or silk powder, adds softness and shine, while silica is mildly abrasive, allowing the lipstick to adhere to the skin, as outlined in "Milady's Dictionary of Skin Care and Cosmetic Ingredients.
Topcoat
The topcoat is what gives Revlon Colorstay it's holding power. It's also what keeps the lipstick feeling soft and smooth all day. The topcoat in Revlon's Colorstay Lipstick contains hydrogenated polydecene, a strong moisturizer and skin smoother, according to "Cosmetics Unmasked." Silica silylate is a lubricant, emulsifier and skin protectant derived from sand. Benzoic acid is listed and is a preservative. Squalane and phytantriol are two emollients listed as ingredients in Revlon Colorstay lipstick. The lipstick also lists soothing herbal extracts from chamomile and fennel. Soy isoflavones and lycopene are included in Revlon's Colorstay Lipstick. Soy isoflavones are used as a nutrient and moisturizer, while lycopene is an anti-oxidant, used to keep the lipstick from degrading, according to "A Consumer's Dictionary of Cosmetic Ingredients."
Possible Additives
Lipstick comes in matte or shiny formulas. If your Revlon Colorstay lipstick shimmers, it may contain mica. Depending on the lipstick color, different natural or chemical dyes might be used. Revlon lists the possible color additives for their lipstick as bismuth oxychloride, titanium dioxide, red 7 lake, red 6 lake, red 27 lake, red 33 lake, yellow 5 lake, yellow 6 lake, blue 1 lake, iron oxides and carmine.
References
"Milady's Skin Care and Cosmetic Ingredients Dictionary"; Natalia Michalun; 2009
"A Consumer's Dictionary of Cosmetic Ingredients, 7th Edition"; Ruth Winter; 2009
"Cosmetics Unmasked: Your Family Guide to Safe Cosmetics and Allergy-Free Toiletries"; Stephen Antczak, Gina Antczak; 2001
Writer Bio
Elizabeth Tumbarello has been writing since 2006, with her work appearing on various websites. She is an animal lover who volunteers with her local Humane Society. Tumbarello attended Hocking College and is pursuing her Associate of Applied Science in veterinary technology from San Juan College.
Photo Credits
Digital Vision./DigitalVision/Getty Images