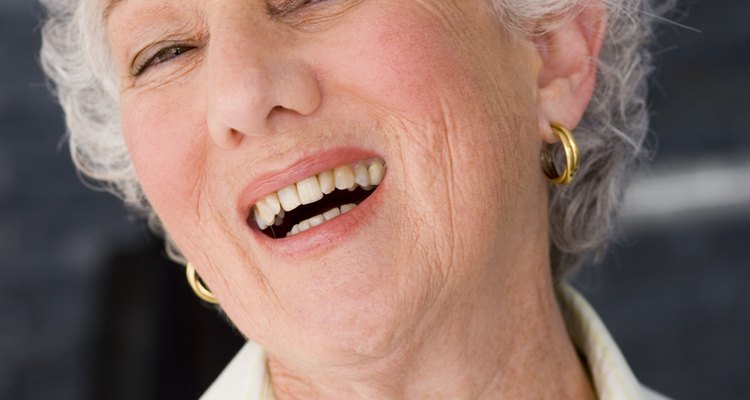 Jupiterimages/Pixland/Getty Images
White hair can give you an elegant, distinguished look that's very flattering, but when you're accustomed to having darker tresses, figuring out how to apply makeup that complements your silvery hair can be confounding. While your skin tone doesn't just change with your hair color, white locks can alter the way that your complexion appears. There's no need to tear out your hair, though, just make a few adjustments in your makeup routine and you'll easily be able to add that healthy glow back to your face.
Go for the Glow
White hair can sometimes make skin tones look a little dull so you should use makeup products that help give your skin a healthy glow. Start with a foundation that has a moisturizing formula and a luminous finish. Instead of powder blush or bronzer, opt for cream formulas so your skin doesn't look dry or powdery. If your skin still needs a little extra boost, use a cream illuminator to highlight the high points of your face such as your cheekbones, temples, chin and the bridge of your nose.
Get Cheeky
Because it's so light, white hair can pull some of the color out of your face so you wind up looking washed out. Blush is a must if you want to restore some of that color to your complexion. Choosing the right color is key, though, and that depends on your skin tone. For white hair and fair skin, opt for a pale rose or peach. If you have medium-toned skin, an apricot or deep rose is a better option. For darker skin, choose a deep candy pink or terra cotta. Apply the blush to the apples of your cheeks and sweep the color back toward your hairline to help give you a lifted look.
Go Bold
Nude and brown lipsticks aren't the most flattering of colors if you have white hair because they can make you look even more washed out. Instead, choose richer lip colors to liven up your complexion. Peach and rose work well for light to medium skin tones during the day, while berry and tawny shades are a good choice for darker skin tones. For an evening out, a sheer pinky red is an ideal option for light skin and a classic true-red shade can flatter darker skin. Remember that lips start to lose definition as they age, so outlining them with a liner before applying lip color can help to restore their natural contours.
Ditch the Black
Black eyeliner is a classic item for many makeup bags -- but if you have white hair, you should reconsider. Black liner can look extremely harsh against your pale hair color, the result being that the liner can make you look older than you actually are. Instead of lining your eyes with black, opt for softer alternatives. For daily use, a softer chocolate-brown eyeliner is a good option. If you want a little drama for an evening out, line your upper lash line with a charcoal or navy-blue liner.
References
Writer Bio
Based in New York City, Jennifer Blair has been covering all things home and garden since 2001. Her writing has appeared on BobVila.com, World Lifestyle, and House Logic. Blair holds a Bachelor of Arts in Writing Seminars from the Johns Hopkins University in Baltimore, Maryland.
Photo Credits
Jupiterimages/Pixland/Getty Images