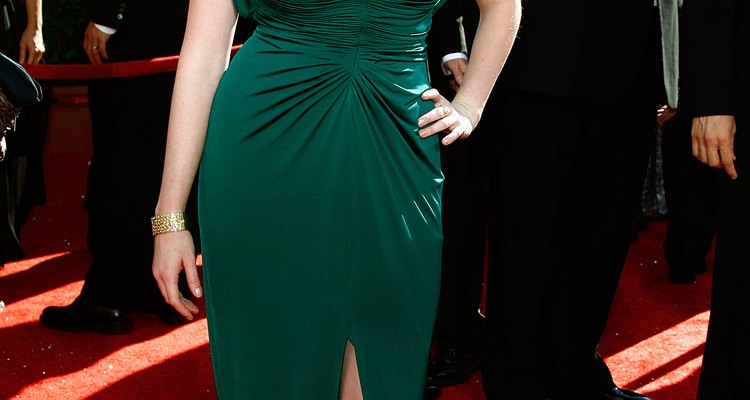 Frazer Harrison/Getty Images Entertainment/Getty Images
Putting an ensemble together sometimes requires just as many layers of thought as it does layers of clothing. Before you complement your bottoms with just the right top and dashingly matched accessories, you have to consider what items flatter the biggest attraction of all: you. Fair skin can exude classic elegance and beauty, but -- just like any other skin tone -- it requires a little forethought as you compose a complete, and completely stellar, look.
Keep Things Cool
Many fair-skinned ladies also sport blue eyes; to make those peepers pop, accent them with a cool, matching blue top, such as a piece in sapphire or cobalt. Few cool colors complement porcelain-skinned redheads as well as classic emerald does, which creates a striking contrast with your hair. For fair skin with a particularly cool undertone, choose a light, calming seafoam for a springy look. As a rule of thumb, most pastels work well on ladies with light hair, skin and eyes.
Warm It Up
No matter your hair or eye color, you can probably get away with light-pink clothing choices, which lend your face a warmer hue. Just as cool pastels work for women with cooler skin tones, fair ladies with warmer undertones can amaze in pale yellow. For a more autumnal ensemble, choose burgundy, which can be especially striking if you have dirty blonde, strawberry blonde or light-red hair. While a soft, pastel orange piece gives you a warm, summery vibe, steer clear of over-the-top deep orange or any bold neons -- as these colors detract from your skin tone rather than flatter it.
Mellow Out in Neutrals
Neutral shades can be risky for fair women, so stick to these pieces as complementary wardrobe items rather than make them the main attractions. White or light-gray undershirts, white skirts and white shoes go particularly well with the pastel shades that flatter the fair-skinned, specifically those women with cool undertones. Women with a warmer pigmentation should turn to cream colors to create a pleasing vibrancy. Stray from deep browns, which may give your light skin a sallow tone.
Two Kinds of Jewels
Choose a rich jewel tone -- such as a smoky purple amethyst -- to highlight blonde hair and brown eyes. Other jewel tones, such as topaz and fuchsia, also add a vibrant glow to your fair skin tone. In the realm of actual jewels, always complement cool clothing colors with cool-colored jewelry -- such as silver, platinum, black and gray -- and adorn warm outfits with warmer shades of jewelry, like gold, bronze or copper.
References
Resources
Color Me Beautiful's Looking Your Best: Color, Makeup and Style: Mary Spillane
Writer Bio
With a diverse professional background and a decade of experience as a freelance writer, Dan has contributed lifestyle content -- from fashion to travel to fitness and more -- to publishers including Chron, Fortune, Sony, GlobalPost, ModernMom, Moviefone, Salon.com, Techwalla and dozens of others.
Photo Credits
Frazer Harrison/Getty Images Entertainment/Getty Images