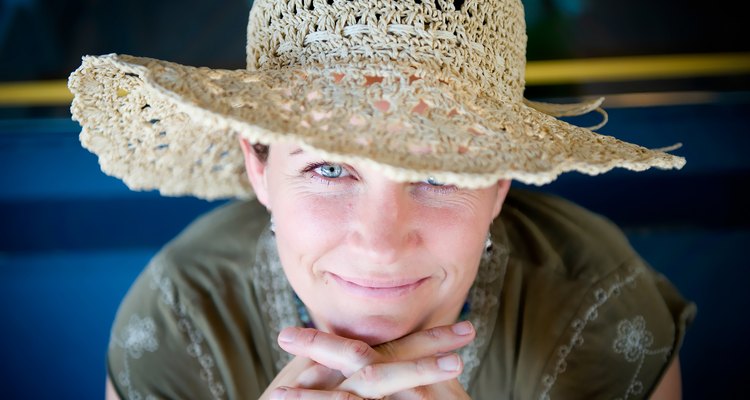 RCVisual/iStock/Getty Images
The color of money and the symbol of renewal, more and more people are trying to go green. If you are part of the lucky green-eyed population, or even have just a few flecks of green, find fashion in the most flattering shades for those times when you want your eyes to shine.
Blues
Since green is a mix of the colors blue and yellow, several hues of blue will bring out the cooler shade in green eyes. Gravitate toward light to medium shades if you're fair-skinned, and pair t-shirts, dress shirts or blouses in shades of turquoise or sky blue with your favorite jeans for a flattering off-duty look. Avoid dull, faded tones to prevent looking washed-out. Medium to dark skin with warm undertones can opt for tops in more dramatic shades such as aquamarine or electric blue. If your skin tone is cool, choose shirts in jewel tones like sapphire and royal blue. Navy is a classic and complements most complexions. Top a white or ivory shirt with a navy blazer for a timeless outfit that works just as well on the weekend with jeans as in the office with tailored trousers.
Greens
Naturally, green is the obvious background to make green eyes pop. A shirt in a similar shade to your iris will exaggerate your eye color. Wear darker hues that your eyes will reflect to deepen and intensify your eye color. Jewel-tones and greens with blue undertones flatter cool-hued skin, so opt for emerald green, celadon or mint in shirts, sweaters or dresses. Warmer tones should lean toward yellow-based greens, such as grass green or lime green. Soft, gray-greens like sage, moss and olive flatter most skin tones and are easy to incorporate into any style. Think army jackets, khaki pants, t-shirts, berets and baseball caps for weekend style options. Suits and ties in these neutral hues could also work for the office.
Purples
Head to the opposite side of the color wheel from green and you'll find that purples, plums and rose-colored shades really make green eyes come alive. Purple contains both blue and red, which add intensity to any green shade. Lean toward warm, red-purples if you have warm tones in your skin; cool tones benefit from blue-based purples. Choose a rose or lavender t-shirt, dress or button-down for light-colored spring or summer outfits. Darker plums, burgundy and wine shirts, coats, hats, jackets and scarves all work for fall and winter.
Gold
Outfit yourself in gold if you have warm or neutral toned skin to enhance the yellow side of green eyes. Green-eyed pupils that are ringed with gold especially benefit from this metallic shade and make everyone notice your 24-karat flecks. Guys will look great on a night out or at a special event in a gold dress shirt, tie and accessories like cufflinks, while women can wear this dressy shade in a silk cocktail dress or slinky gown with matching gold jewelry.
References
Writer Bio
Hilary White is a professional writer and editor based in San Diego. White has been writing articles on fashion, style, fitness, nutrition, movies and entertainment since 1994. Her articles have been published in "Westways" magazine, "Pages" magazine, "Book Street USA," "Magill's Cinema Annual," and numerous titles from Visible Ink Press. White holds a bachelor's degree in English from Michigan State University.
Photo Credits
RCVisual/iStock/Getty Images