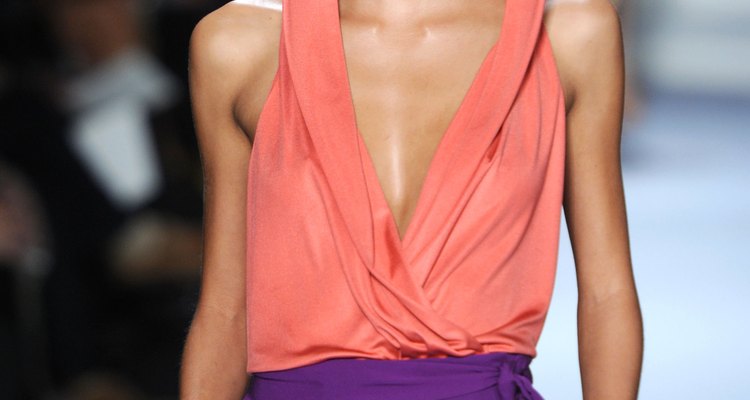 Frazer Harrison/Getty Images Entertainment/Getty Images
If you're bored with wearing the usual color combinations such as black and white or khaki and navy, update your color palate and wear an outfit that pairs orange and purple. Both men and women can go bold and color block an entire outfit, or they can ease into the style statement by choosing one and accenting with the other. Nothing beats a pop of orange or purple here and there to spice things up.
How It Works
The most exciting way to put orange and purple together in an outfit is to color block them. The basic principle to color blocking is to combine two or three vivid colors that complement or contrast rather than match each other. The colors should be solid and vivid to make the boldest statement. Orange and purple are not contrasting colors; they are analogous colors, because they are close together on the color wheel. They make quite a modern-chic combination in an outfit.
Color Blocked Outfits
Women can color block a special occasion outfit with an orange satin pencil skirt and purple chiffon blouse. Tie the two together with a metallic belt and matching statement earrings. Bring another vivid hue into the mix with a pair of green or turquoise strappy sandals. Or, women can rock a color blocked style at a casual level with a pair of purple skinny jeans or high-waist trousers and an orange tank or button-down. This look is best when accessorized with nude shoes and understated jewelry.
Men can color block a pair of orange cotton chinos with a purple V-neck sweater. If the outfit is for work, add a lighter shade of purple button-down and a deep purple-on-purple patterned tie. Wear sand colored suede desert ankle boots to polish off the look.
Purple Passion
Designers are loving purple, putting out pieces in every shade from pale lavender to deep indigo. The blue undertone of purple makes it an easier color to wear for more complexions than orange, so it's best to find your more flattering shade of purple and accent it with a complementary shade of orange. A lilac button-down under a navy blazer accessorized with a chunky watch that has tangerine color detailing is a subtle but effective way to combine the power-duo colors for men. Similarly, in women's' fashion, a soft purple dress is beautifully complemented by a pair of coral strappy heels or pumps. In cooler months, wear a taupe suede ankle boot and add a coral scarf or cropped jacket. Be sure to match your make-up and wear bronzer, peachy-blush and coral lipstick for a totally pulled-together look.
Deeper Shades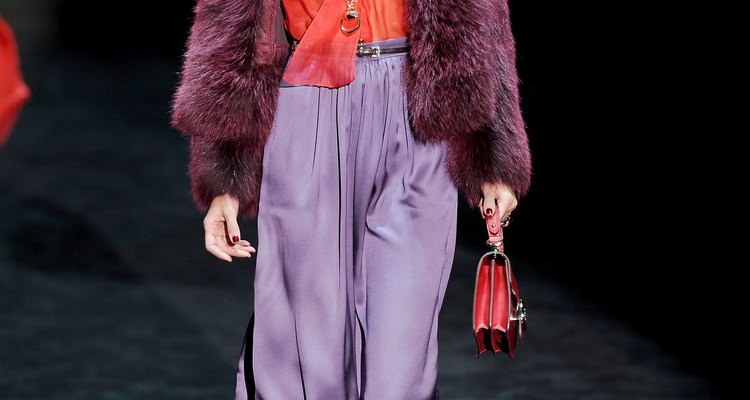 Tullio M. Puglia/Getty Images Entertainment/Getty Images
You may think of orange and purple as spring and summer colors, but if you adjust your shades you can keep wearing the peppy colors year-round. In winter, pair eggplant with rust for a more subtle but equally stylish color-combination. Accessorize these earthier tones of orange and purple with deep burgundy and brown leather pieces. A pair of slim-cut eggplant corduroys, rust colored button-down, and mahogany leather boots and belt create a beautifully sophisticated fall version of an orange and purple outfit for men or women.
References
Writer Bio
Angela Bakke is a Los Angeles-based writer and reporter with more than a decade of experience covering fashion, beauty, the arts and entertainment. She has interviewed some of the most famous people in the world and covered stories for Beyond Cinema, Hollywood.com, ReelzChannel, CNN.com and Celebs.com.
Photo Credits
Frazer Harrison/Getty Images Entertainment/Getty Images