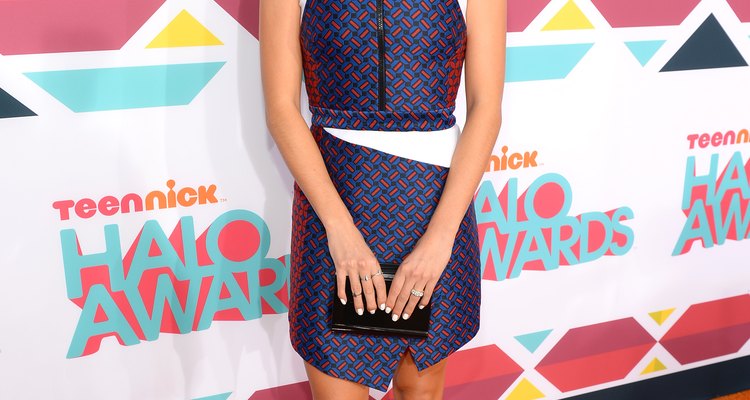 Mark Davis/Getty Images Entertainment/Getty Images
Purple, a color regularly associated with royalty and opulence, can be paired well with a wide range of other hues. When wearing bold purple tones, let your purple garment stand out by wearing it with quieter colors that complement without competing. For light purples, choose vibrant, contrasting colors to create a bold look.
Blue & Purple Tones
Take a simple approach and mix different tones of purple together. A deep purple pair of skinny jeans looks super chic with a pastel purple silk blouse. Dark brown high-heel boots worn over the jeans and delicate gold jewelry -- think medium-sized hoop earrings and a simple pendant necklace -- effortlessly complete the ensemble. For a little variation, pair purple with blue instead. Different shades of blue complement purple well. Wear a navy blazer over a pastel purple sundress, and finish your outfit with white pearl stud earrings, tan leather sandals and a chunky gold bracelet.
Silver & Gold
Different shades of purple work very well with both gold and silver. Gold creates a warm, regal look, and silver highlights purple's cool undertones. Wear a gold brocade peplum top with some rich purple slacks for a great alternative to a cocktail dress. Black patent pointy toe pumps and diamond or rhinestone stud earrings are all you need to finish the outfit. If silver is your metallic of choice, wear a light purple cashmere cardigan with a silver sequin miniskirt. Keep the outfit daytime appropriate by adding opaque black tights and dark brown or black riding boots. If you'd like to wear jewelry, choose simple silver or pearl stud earrings, which won't compete with the sequins on your skirt.
Neutral Backdrops
Use neutrals as a backdrop for your purple garments. Generally, dark neutrals work well with light purple tones, and light neutrals, like khaki, white and tan, complement deep, rich purple shades. A bright purple blouse stands out when worn with classic white pants; team with neutral accessories -- think tan leather sandals and a nude patent envelope clutch -- to accent the purple without being overwhelming. Or, pair a black silk t-shirt with lavender skinny jeans and pick simple accessories to finish off your outfit -- white and gold jewelry and brown leather loafers are chic neutral options.
Complementary Contrasts
Although purple can be a very bold color depending on the specific tone, it can still be worn easily with other brights. Red, for instance, looks striking when worn with a complementary shade of purple. Wear bright red skinny jeans with a very dark purple blouse or sweater. Basic accessories -- brown leather boots and a chunky gold chain necklace -- allow the two colors to remain the focal point of your outfit. Yellow is another contrasting, yet complementary, color to pair with purple. Create a feminine springtime ensemble by wearing a lavender cardigan over a vibrant yellow dress. Nude espadrille wedges and a simple pearl necklace tie the whole look together effortlessly.
References
Writer Bio
Katherine Mitt has been contributing to online publications since 2009, focusing primarily on fashion and style topics. She holds a B.A. in English from a small liberal arts school.
Photo Credits
Mark Davis/Getty Images Entertainment/Getty Images