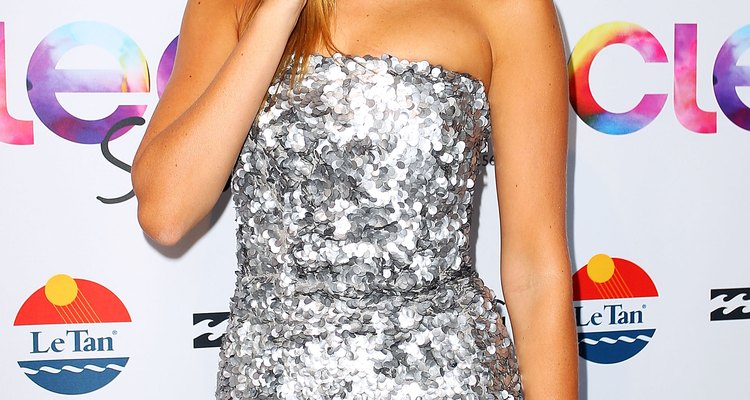 Lisa Maree Williams/Getty Images Entertainment/Getty Images
Every year, the last day of December brings a slew of New Year's Eve celebrations. Whether you plan to ring in the new year by standing outside in Times Square, having an intimate get-together with your closest friends and family or attending a large-scale bash, New Year's Eve is the perfect reason to put together a fun and lively outfit.
Celebratory Metallics
Gold and silver are the go-to colors for many women's New Year's Eve outfits -- and with good reason. Keep your gold and silver garments tasteful by incorporating dark or neutral accessories into your outfit. Throw on a black blazer over a gold sequin cocktail dress, and add black strappy evening shoes, a matte gold envelope clutch and an elegant pair of drop earrings. If silver is your color of choice, play up the hue's cool undertones by pairing a bright silver skirt with a cream silk tank top and a cobalt shawl for warmth. Silver pointy-toe pumps and diamond or cubic zirconia jewelry will complete the festive look.
Winter White
Stand out among all the little black dresses at your New Year's Eve party by dressing in vibrant winter white. Accent the snowy tone with black for timeless elegance, or choose bright, colorful accents for a livelier look. Accessorize a fitted winter-white sheath with a black-patent belt and matching pumps. Simple crystal studs will give your classic outfit a ladylike hint of New Year's Eve celebration. Or, wear a pair of red suede pumps with a slinky winter-white cocktail dress and top with a gold-tone evening coat. Keep jewelry and other accessories simple -- small gold earrings and a cream evening clutch are all you need to complete the outfit.
Jewel Tones
Jewel tones -- emerald, ruby and sapphire, for example -- are rich and luxurious, and make regular appearances in many women's holiday wardrobes. Play up the opulent look of your favorite jewel-tone dress by dressing it up with diamond or cubic zirconia jewelry and shiny black accents. For example, wear a silk, emerald-colored cocktail dress with some classic rhinestone earrings and a gold, crystal-encrusted cuff. Choose a black patent-leather envelope clutch and pumps to tie the look together. For an extra dose of celebratory fun, hold your hair back with a delicate rhinestone-embellished metal headband.
Dressed Up Black
Although black can be a predictable color for winter events, you can make your little black dress stand out from the crowd by pairing it with eye-catching accessories. For example, a bold, oversize statement necklace can transform a basic black dress into a total head-turner. Black pants or a silky black jumpsuit are also great options for a New Year's party, and both are the perfect way to highlight your most vibrant pair of high heels. Bright red strappy heels will contrast nicely with a sleek pair of black evening pants. Pull your look together with an embellished, sequined or brightly colored clutch that complements your other accessories.
References
Writer Bio
Katherine Mitt has been contributing to online publications since 2009, focusing primarily on fashion and style topics. She holds a B.A. in English from a small liberal arts school.
Photo Credits
Lisa Maree Williams/Getty Images Entertainment/Getty Images