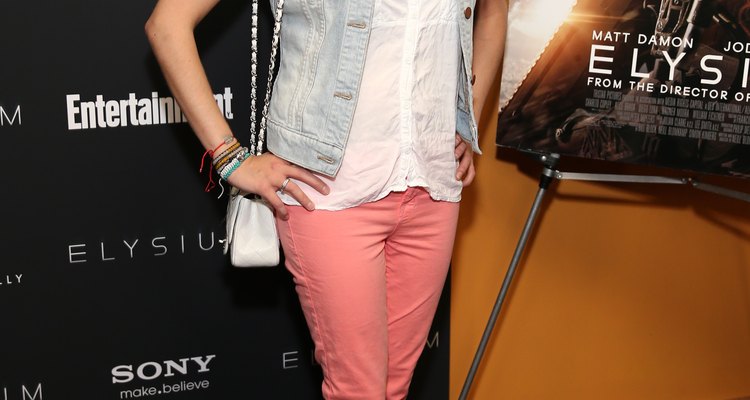 Neilson Barnard/Getty Images Entertainment/Getty Images
If you're looking to join the colored-denim club, a pair of peach jeans is a stylish way to gain admission. While not as simple as basic black jeans or as bold as hot pink skinnies, peach introduces enough color for a fun, vibrant look that's still easy to style. Whether you choose a neutral top or a daring print, a myriad of ensemble options will make your style peachy keen.
All in the Family
One of the most basic ways to wear a pair of peach jeans is to embrace variations of the color. Try a monochromatic look that weaves similar hues of peach or orange from top to bottom. For example, peach jeans and a lighter, dusty salmon blouse with neutral accessories gives a feminine vibe, while the same jeans with a bright coral tank or tee is vibrant for summer. It's not necessary to match the exact hue of top to your pants -- as long as they're in the same color family, the look will work well. Finish the look with metallic gladiator sandals for day or black pumps and a clutch for night.
Neutral Party
You simply can't go wrong by wearing peach denim with a neutral top. Look in your closet for a white button-down, a gray V-neck boyfriend tee or a black tank top -- all pair beautifully with peach jeans. You can also mix several neutrals into the look, like a beige cardigan over a white tank top or a black-and-white striped or polka-dot blouse. Keep accessories simple with silver or gold jewelry and a pair of neutral ballet flats.
Denim and Blues
The beauty of a classic blue-denim shirt is that it functions as a near-neutral on top, and thus pairs well with peach jeans or colored bottoms in general. For a straightforward look, pick a chambray button-down, tuck in the front and leave the back free; add a narrow cognac belt and matching boots or wedges. For an adventurous colorblock combo, pair your peach jeans with a cobalt blouse, navy sweater or baby-blue t-shirt.
Playful Prints
A pair of pretty peach jeans is elevated to new fashion heights when you style it with a print. For a basic approach, simply wear your jeans with a white or black tee, and top with a silky patterned scarf that mixes in a shade of orange into the print. Or, make a bold style statement by choosing a striped, floral, plaid or animal-print top. For instance, a printed chiffon blouse in cream, blue and coral would pair beautifully with peach denim as would a neutral-hued leopard-print top.
References
Writer Bio
Stacey Kole was managing editor of the International fashion and beauty publication Savvy where she penned stories on all things beauty and style, while writing cover stories on such celebrities as Victoria Hudgens and Julianne Hough. She continues to write for a variety of online fashion, beauty and health publications.
Photo Credits
Neilson Barnard/Getty Images Entertainment/Getty Images