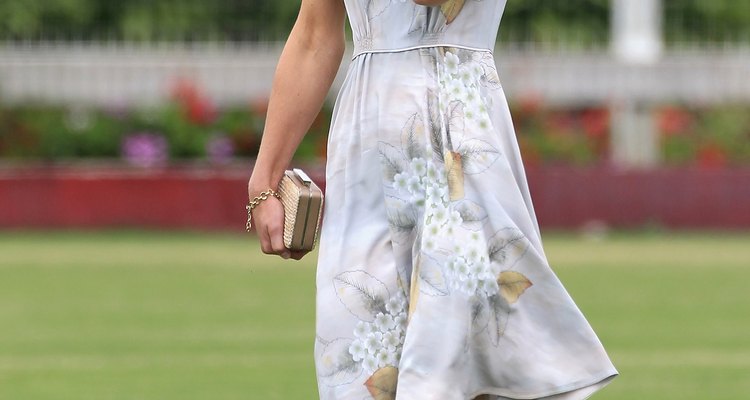 Chris Jackson/Getty Images Entertainment/Getty Images
Navy is said to be the new neutral, but taupe is already in the spotlight as a full-fledged member of the neutral color family. Since this color is a darker version of the on-trend nude tone -- beige -- and a lighter shade of khaki, its earthy color quality can be styled with the same styling tips used for earth-tone neutrals to create a variety of ensembles. Whether you choose dresses, tops, accessories or bottoms, add taupe shoes to beautifully blend your outfit and footwear.
Neutrals
When in doubt, wear soft taupe shoes. Wearing a matching or monotone color scheme creates a classic yet stylish ensemble. Mix a cream-colored blouse with a dark-chocolate jacket or blazer with taupe colored pants and shoes. Wearing this coordinating look will make your legs look long and lean since the same color carries from your waist to your footwear. Botton-front shirt dresses generally create a structured look. Soften the style by wearing a khaki shirt dress with your taupe shoes and add a metallic belt for interest around your waistline.
Navy
Since fashion stylists view navy as the new neutral, pair this color with your taupe shoes. Mix a structured navy blazer with a cream blouse and skirt paired with your taupe footwear. If you are wearing color-blocked taupe shoes, don't be afraid to mix your pumps with a navy dress. If you plan to wear navy shorts to the office, make sure you choose a trouser-like silhouette to wear with your taupe shoes. If you are wearing taupe wedges, experiment with a sporty navy and white striped, crew-neck sweater over beige or navy shorts.
Pastels
On warm summer days when shorts or a skirt is part of your attire, mix pastel tones with taupe shoes. A soft, lavender or mint-green blouse and skirt pair beautifully with taupe, providing a sophisticated look. You can also wear a deep-tone coral dress with your taupe footwear. As an alternative look, wear a light-pink, beaded tunic with side vents and skinny jeans paired with high-heeled, strap shoes. If you are wearing white capri bottoms with a baby blue jacket layered over a floral-printed blouse, don your yellow-tipped, taupe-colored wedges to add a vibrant color to your ensemble.
Jewel Tones & Jeans
If you like wearing medium- or dark-colored stone-wash jeans, taupe shoes will complete your denim look. Since this color balances with just about every color palette, you can also pair your shoes with jewel tones, including deep turquoise. Olive green and burgundy blouses made of silky fabrics will fair well with patent-leather taupe pumps and dark jeans for a fall-inspired ensemble. Throw a taupe-tone cardigan, skinny belt or clutch to accentuate the footwear and outfit. Since this neutral shade is available as pumps, ballet flats, wedges and sandals, you can pair your footwear with different denim bottom styles and jackets for a variety of mix-and-match options.
References
Writer Bio
Mercedes Valladares is the founder of M721Organics and has been an independent designer for over 15 years. Her work experience commenced during college with manufacturers based in New York and Hong Kong. Her education includes LIM College, International Fine Arts College and design certification from the Paris Fashion Institute. She produces eco-crafting videos and writes recycling articles online.
Photo Credits
Chris Jackson/Getty Images Entertainment/Getty Images