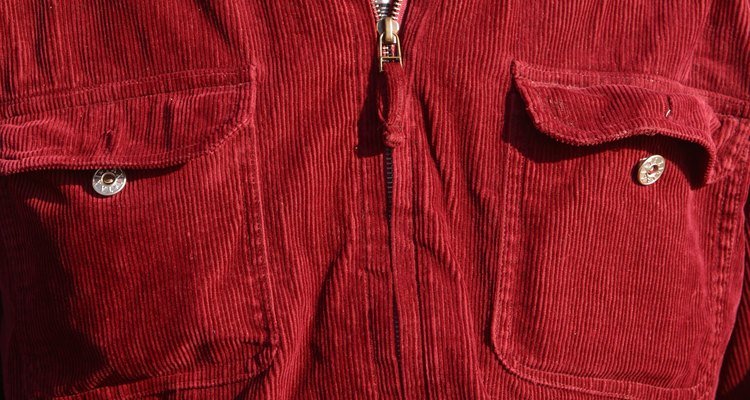 Jupiterimages/Photos.com/Getty Images
Casual Fridays and relaxed work environments deem certain weekend outfits acceptable, including clothes made of corduroy. Designer fashions use this vertical-ridged texture -- referred to as wales -- to create tailored as well as casual silhouettes. Because this textile is commonly associated with cool weather months, these styles give you added warmth. Introduce stylish cord pieces into your casual outfits to add textured interest.
Tailored Toppers and Bottoms
Trade in your corporate-world suit for tailored corduroy jackets, blazers and pants. The key is to add corduroy pieces that have defined silhouettes and steer away from baggy shapes that appear sloppy. Wear one corduroy piece at a time to add texture to your outfits. Ladies can wear a structured, vertical-ridge blazer with suede elbow patches, choosing a style made of fine corduroy for a long and lean look. Layer your fine cord blazer in medium to dark hues -- camel, burgundy, gray or black -- over a button-down, contoured blouse and slim pants. You can also wear cord pants in tailored silhouettes, leaving your second-skin cord jeans at home. As an alternative, slip on a tweed blazer over a shaped turtleneck and stretch-blend, pin-wale trousers in a boot leg silhouette with a thick leather belt.
Skirts and Dresses in the City
Spruce up your casual Friday by sporting a corduroy skirt. Select tailored skirts made of lightweight cord to ensure your bottom half does not look frumpy. Choose office-appropriate lengths -- knee-length or below the knee -- in A-line, wrap, pencil or gored skirt silhouettes. Pair contoured blouses and blazers for a classic look. Create a downtown vibe by layering a metallic-yarn sweater with a belted waist over a dress shirt and corduroy wrap skirt with knee-length leather boots. As an alternative, don a printed-cord dress or jumper in a shaped silhouette -- such as a shirt-dress -- with a solid-color blazer. Assess your work environment to ensure you can wear fine-cord jumper and pinafore styles, which are often associated with weekend wear.
Rugged Men
Men wearing corduroys at the office fare better selecting a narrow wale. This creates a tailored, structured look and erases the image of a boxy, oversized style. Wear low-key sport jacket colors -- black, navy, charcoal gray and brown -- that blend with other casual pieces. Layer a navy corduroy sport jacket over a denim button-down shirt and dark jeans combo with a leather belt. Add a dash of color wearing a burgundy-striped tie and pocket square. Introduce slim pants silhouettes into your corduroy ensembles for a modern twist.
To Wear or Not to Wear the Corduroy Suit
Duplicate a classic or hipster style when you replace your wool suit with a slim-cut, two-button corduroy suit. Mix a button-down dress shirt and striped skinny tie with lace-up shoes to complete your look. Play it safe at the office and stick with earthy hues in a narrow or medium cord wale. If you can get away without the tie, layer the jacket of your navy suit over a slim gray sweater. Make a bold fashion statement wearing a slim-cut, tan cord suit over a slim navy turtleneck.
References
Writer Bio
Mercedes Valladares is the founder of M721Organics and has been an independent designer for over 15 years. Her work experience commenced during college with manufacturers based in New York and Hong Kong. Her education includes LIM College, International Fine Arts College and design certification from the Paris Fashion Institute. She produces eco-crafting videos and writes recycling articles online.
Photo Credits
Jupiterimages/Photos.com/Getty Images