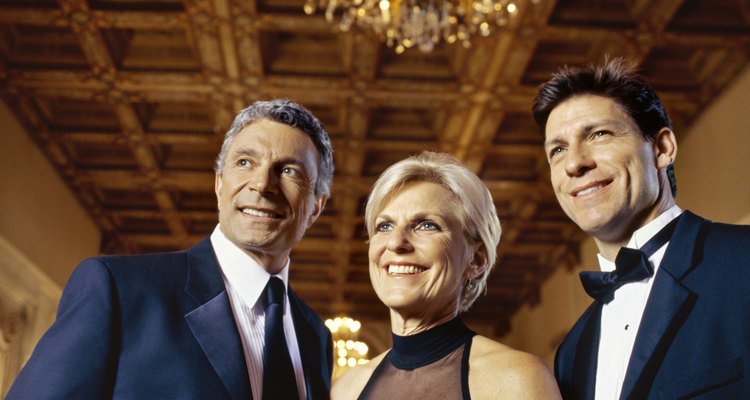 Stockbyte/Stockbyte/Getty Images
If you're short, petite or just vertically-challenged, floor-grazing gowns can present a problem. Try looking at your long-length frocks from a different perspective by borrowing a few tips from Hollywood stylists and celebrities that help to lengthen and provide an elegant overall effect. Whether you choose upper-body details or implement color, pattern and footwear tips, you can transform your long-length frocks into long, lean fashion machines.
Creating Your Vertical Line
Although fashion legend professes that short ladies can't wear floor-length frocks, proven stylists have debunked the myth. Choose gowns that have neckline details, such as deep V-necks which create the illusion of an elongated torso. As an alternative, layer a form-fitting top over a casual, floor-length frock to create the illusion of a long and vertical line. You can also opt for contoured styles in floor-grazing lengths that elongate your body frame. Avoid long-length silhouettes that have bottom skirt details, such as layered flounces or pleats that can make you look short and wide.
It's All About the Color
Create a statuesque look by wearing a gown in a solid color. Whether you're donning a show-stopping gown or a maxi frock, solid colors create the illusion of height. Dare to wear color-blocked -- contrasting color insert panels -- styles that have inserts in similar hues. You can also opt for gowns or dress silhouettes that have vertical seams creating the optic of added length. If you're wearing evening frocks with mixed delicate fabrics, pick styles with textiles dyed in the same color tones. Go for patterned dresses with small prints and forgo large patterns that can appear overwhelming or make you look frumpy.
Bring On the Vamp
If you're wearing a sexy gown with thigh-high slits, wear your footwear in a low-cut vamp style. This shoe silhouette sits across your foot, skimming the base of your toes. Although the vamp style varies, choose a pair with a low cut to elongate your leg, creating the illusion of height. If you're shopping your closet or on the hunt for a new pair, look for colors similar to your skin-tone creating a long and lean leg. Dare to wear your sky-high stilettos or platform pumps with your gowns for the added lift.
Petite Gals New BFF
Click a plus one on your friends list by adding your tailor as your new BFF. Short gals can have their seamstress make a few contouring and shaping adjustments to customize their gowns to create the illusion of the sought-after long and lean vertical line. However, don't mistake form-fitting alterations with second-skin silhouettes that can often highlight body type issues you prefer concealing. Have the tailor alter the gown to skim your body frame, flattering your shape. You can also alter your gown to accommodate your height. Although you'll be spending a few extra bucks, this investment will make you look poised and polished.
References
Writer Bio
Mercedes Valladares is the founder of M721Organics and has been an independent designer for over 15 years. Her work experience commenced during college with manufacturers based in New York and Hong Kong. Her education includes LIM College, International Fine Arts College and design certification from the Paris Fashion Institute. She produces eco-crafting videos and writes recycling articles online.
Photo Credits
Stockbyte/Stockbyte/Getty Images