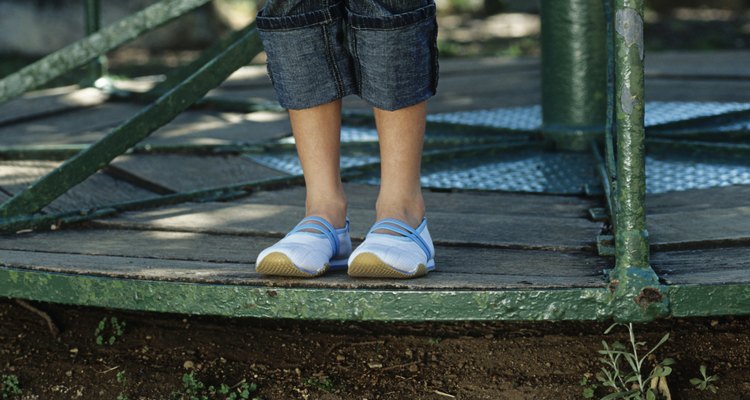 Stockbyte/Stockbyte/Getty Images
Capris come in a variety of fun lengths, ranging from cropped just above the knee to cropped just above the ankle. Choosing the best capri style for you often depends upon your height and frame. Every style of capri does not work for everybody, but there is a capri for every body type. The key to creating a great capri look is creating the longest line possible.
Long Legs
Taller women have more flexibility in choosing both length and color. But generally, if you have long legs, the best capri cut is the longer ankle length. This length will create long, clean lines in your look. Additionally, while petite women should generally pick capri pants that don't differ too greatly from their skin tone, you can have fun with a rainbow of color options.
Short Legs
If you have shorter legs, you will want to opt for a shorter style capri. The best style for someone with shorter legs are capris that hit just below the knee; this look helps the legs appear longer. Additionally, keep your pants legs straight or slightly tapered, as wide-leg capri styles will make you look shorter.
Universal Rules for Capris
Capris work for all women and body types, but you must be careful in choosing the correct length for your height and body type. A general rule to follow across all body types is to choose a hem that will hit the slimmest part of your leg. For example, a woman with muscular calves will want to extend her capri-pant length past her calf muscles as opposed to ending at or right above this spot. Also, avoid cuffs as these generally make your legs look shorter.
Accent Your Capris
Every outfit is not complete without accessories. One of the most important accessories to choose with any outfit is your shoes. Wedges or sling-back heels make a perfect compliment to your capri ensemble. Petite women especially benefit from adding a heel to create the illusion of height. Also, pay attention to the tops you pair with your capris. If you are looking to diminish a curvier lower half, choose a brightly colored or patterned blouse to help draw the eye upward.
References
Writer Bio
Richmond, Virginia resident Nakita Rowell-Stevens has been writing articles in business and entertainment since 2002. Her writing experience spans from feature coverage with local area newspapers such as "The Daily Tar Heel" and "The Richmond Free Press" to writing for ABC Television affiliates. Rowell-Stevens holds a Bachelor of Arts in journalism from the University of North Carolina at Chapel Hill.
Photo Credits
Stockbyte/Stockbyte/Getty Images