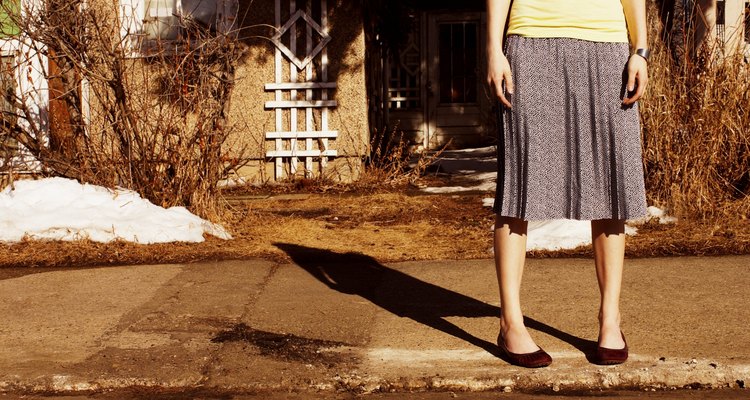 Design Pics/Design Pics/Getty Images
Many women have big legs, and often retreat from fashion to take refuge in dark, full-length pants. Before you spend another season hiding in pants and jeans, consider the best ways to wear the skirts you've always wanted to try. Skirts are feminine, and wearing the right styles and accessories can actually make your legs look thinner.
Long Skirts
Long skirts provide a camouflaging effect large-legged women look for. They also offer a refreshing change from the pants routine. The key to pulling off long skirts is to make sure hemlines don't fall farther than the ankles, because this will look frumpy. For an interesting take, try asymmetrical styles, as well as sleek straight cuts.
A-Lines
While long skirts hide your legs, they might not always be practical. They aren't the best style for petite women because they can overwhelm small body frames. And longer skirts can feel too restricting after a while. A-line skirts are another alternative to pants for women with large legs. A-line styles are universally flattering; they don't accentuate the legs in the same way pencil skirts do, because the hems are wider than the waists.
Trumpet Skirts
The trendy woman might consider trumpet skirts. With a length similar to A-line skirts, this style is fitted along the hips with a flirty flare at the hemline in the shape of a trumpet. Trumpet skirts are flattering on women with bigger legs because the flare balances your curves. If you're petite, wear a trumpet skirt that falls above the knee to avoid looking shorter. Pair a flared skirt with a fitted top to draw attention to your waist.
Flattering Footwear
The right shoes are key to pulling off a skirt, especially if your legs are bigger than average. Flats are off limits because they make the legs look shorter and larger. Instead, choose footwear with some height. Even a 1-inch heel or wedge is enough to complement your skirt while slimming your legs. Also consider wearing neutral-colored shoes to make your legs look longer. When in doubt, pick skinny heels -- they are universally flattering.
Accessorize
Accessories can be helpful when you're trying to distract from large legs. Since some flashy shoes can make legs look bigger, look for other opportunities to accessorize. If you're wearing a long skirt, consider wearing a fitted shirt and fastening a belt around the waist -- this will make your midsection look smaller and help take the focus away from your legs. Don't be afraid to wear a single bold piece of jewelry, such as a trendy necklace, bracelet or pair of earrings.
References
Writer Bio
Kristeen Cherney began writing healthy lifestyle and education articles in 2008. Since then, her work has appeared in various online publications, including Healthline.com, Ideallhealth.com and FindCollegeInfo.com. Cherney holds a Bachelor of Arts in communication from Florida Gulf Coast University and is currently pursuing a Master of Arts in English.
Photo Credits
Design Pics/Design Pics/Getty Images