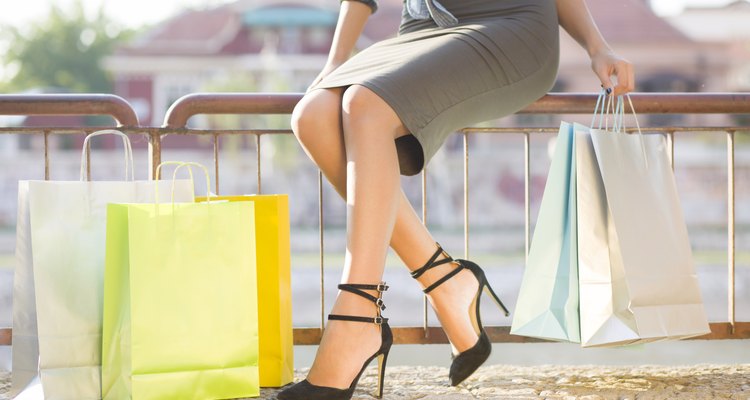 SrdjanPav/iStock/Getty Images
The short answer is yes, thanks to Kim Kardashian, Nicki Minaj and to the many women who have shown that big hips were made for pencil skirts. After all, the purpose of a pencil skirt is to accentuate the curves of the body; what better way to do that, than to wear a tight fitting skirt? Nevertheless, there are a few tricks to master the decorum, taste and charm of correctly wearing the pencil skirt with big hips.
Hips Don't Lie in a Pencil Skirt
Wear a seamless body shaper. More than likely you are a woman with some jiggle in the hip area, which means -- just like millions of other women -- you take up arms against cellulite. A pencil skirt rests very closely against the skin and reveals every curve, dimple and dent. It's important to conceal as much cellulite as possible with a body shaper.
Shapers come in many varieties. Both the shaper dress and girdle accomplish the same thing: smoothing out the surface of the pencil skirt. However, the best choice depends on your comfort level. Obviously the shaper dress is easier to put on and more convenient when nature calls, but some women have the "roll up" problem as they walk about through the day. To avoid your shape wear riding up or losing it's shape during the day, choose a shaper that best suits you and is comfortable enough to last the entire day.
Wear darker color skirts to curtail the attention your hips draw. When people see you, the first thing they see is your hips. You want to use the charm of your hips to enhance the elegance of your head to toe look. Don't be abrasive, be charming. Wear blacks, blues, browns and dark shades of reds. Right now the deep burgundy oxblood, a color that trends every 3 to 5 years, is still very popular.
The only instance where you can get away with wearing a bright colored pencil skirt is when your top provides the proper balance, not over-emphasizing the curves of your hips. For example, a pale pink skirt with a white fitted blouse.
Wear brighter colored or printed blouses to offset the drama of your voluminous hips. A vibrant colored secretary blouse or a capped sleeved mosaic printed wrap blouse balances out the head to toe flow of your natural curves. If your shoulders are smaller than your hips, colors and prints evens them out.
Writer Bio
Rebecca Walton started writing after a 10-year career in state government. She is a long time contributor to Houston Style Magazine, which led to her becoming an authority on fashion and style. Walton holds a master's degree in liberal arts and owns a media and communications company that delivers content to the masses.
Photo Credits
SrdjanPav/iStock/Getty Images