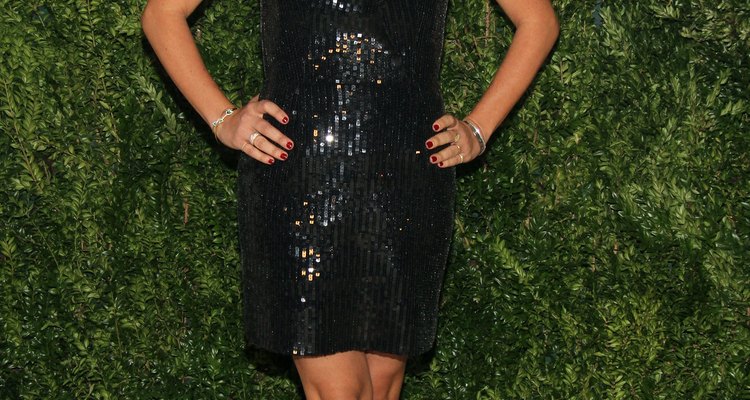 Mireya Acierto/Getty Images Entertainment/Getty Images
Choosing the right dress for a short, slim frame is a challenge not to be taken lightly. The most important thing for petite women to keep in mind when shopping is proportion. You'll want to choose dresses that work with your small frame rather than against it. So put down that puffy, taffeta dress and seek out styles that are sleek and curve-hugging.
Small Prints
A large-scale print can overwhelm a short, slender woman's petite frame. When shopping for printed dresses, stick with the smaller patterns, such as tiny floral prints or polka-dots. When in doubt, "Oprah Magazine" suggests a quick test: Hold your fist up to the print. If the print is smaller than your fist, it works for a small frame. When you wear a print dress, pair it with a solid shoe, such as a nude or black pump, that doesn't compete with the print.
A-Line Dresses
Short, skinny women should take steps to keep the eyes moving up and down, rather than side to side, on their figures. Certain dresses help you appear more elongated, stretching out your frame. Try wearing an A-line dress -- the straight, vertical lines help lengthen your silhouette. When accessorizing an A-line style, choose bold jewelry at the top of your frame, such as a jeweled necklace or earrings, to further draw the eye in an upward direction.
Mini and Maxi Dresses
The worst place for the hem of a dress to fall if you are short and slim is right at your knee. Dresses with hems in this zone can make you look squat or frumpy. Instead of a knee-length dress, choose a mini dress that ends a few inches above your knee; exposing more of your leg will help lengthen your figure. As an alternative, choose a floor-length maxi dress. Because this style runs the length of your body, it gives the illusion of a longer silhouette.
Fitted Dresses
A dress with a lot of volume or flare can easily overpower a petite frame. If you are short and skinny, consider a dress that highlights your natural curves rather than covers them up. Some styles that achieve this include bodycon, sheath and pencil-cut dresses. Dresses made with spandex and spandex blend materials hug curves rather than hide them.
References
Writer Bio
Leigh Shan has been writing about beauty, health, fitness, home and small businesses since 2007. Her work has been published in "The Queens Courier," "Queens Business Today" and "The Real Deal" newspapers, as well as "The World Scholar" magazine. Shan holds a Bachelor of Arts in journalism from Fordham University in New York City.
Photo Credits
Mireya Acierto/Getty Images Entertainment/Getty Images