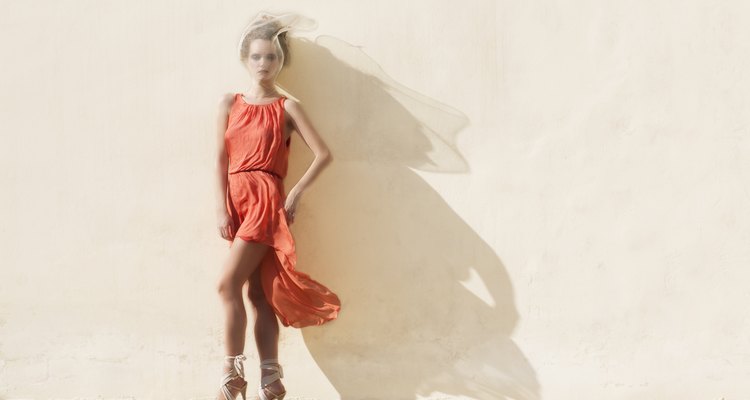 AdrianaCahova/iStock/Getty Images
The drop-waist dress is a classic style, often associated with the 1920s. These dresses are relaxed and comfortable but work best on specific body types. Drop-waist dresses typically fit loosely from shoulder to hip, transitioning into a pleated or gathered skirt at the hip, rather than the natural waistline. Hemlines may be quite short, reminiscent of the 1960s, or somewhat more conservative. Work with your body to make this dress style work for you.
Slender and Willowy
If you're slender, with a smaller bustline and hips, the drop-waist dress lets you channel your inner flapper. These dresses are ideal for showing off long legs, delicate collarbones and toned arms. Choose a relatively short drop-waist dress to keep your dress from overwhelming your frame, especially if you're slender and petite. You can wear both loose-fitting and more fitted drop-waist dresses with ease.
Apple Shapes
If you carry weight through your tummy, a drop-waist dress skims over the midsection. Avoid styles that fit snugly across your midsection for the most comfortable fit. The lower waistline of the dress will create the appearance of a longer torso but may visually shorten the legs. A shorter hemline or flowing, sheer skirt can help keep your legs and torso in balance when you're wearing a drop-waist dress.
Plus Sizes
Plus-size manufacturers often opt for drop-waist dresses; however, they work best for specific plus-size body types. If you carry your weight in your mid-section or are relatively straight up and down, you may find a drop-waist dress flattering. Choose a relatively loose-fitting drop-waist dress with the waist low on the hips for the most flattering fit. If you're opting for a more formal dress, detailing or beading should be high around the neck or low around the hem, rather than along the mid-section.
Hourglass and Pear-Shaped Figures
If you're a perfect hourglass or rather pear-shaped, regardless of size, this simply isn't your best dress choice. Both hourglass and pear-shaped women may need to choose a larger dress size to accommodate curves, altering the shoulders of the dress as needed. Hourglass figures may be able to wear a more fitted drop-waist style but will still look best in a dress that emphasizes the slender waistline. The drop-waist silhouette places a strong emphasis on the hips. If you do opt for a drop-waist dress on a pear-shaped figure, choose a dress with strong detailing along the neckline to bring the eye up and away from your hips.
References
Writer Bio
With a master's degree in art history from the University of Missouri-Columbia, Michelle Powell-Smith has been writing professionally for more than a decade. An avid knitter and mother of four, she has written extensively on a wide variety of subjects, including education, test preparation, parenting, crafts and fashion.
Photo Credits
AdrianaCahova/iStock/Getty Images