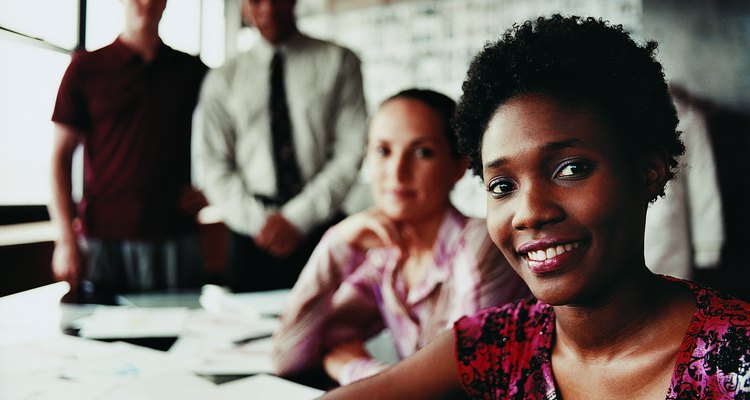 Digital Vision./Photodisc/Getty Images
Clothes hang better from wide shoulders, which is why lots of models strutting the catwalk have strong shoulders. While your broad shoulders may go along with a healthy and athletic frame, your upper body might appear more masculine than you'd like. You'll want to wear dresses that soften your form to create a more feminine, rounded physique.
Soft-Shouldered Dresses
Avoid dresses with crisp, defined shoulders, which accentuate shoulder width. A halter dress draws the eye toward the neck and face and has a narrowing effect, which is especially flattering for strong shoulders. Halter-style dresses are versatile and come in any number of styles from light, cotton sundresses to silk and brocade cocktail dresses and gowns. Raglan sleeves or other shoulder-skimming dress styles can be casual or dressed-up, and will trim the shoulders and soften angles.
V-Neck Dresses
Wrap dresses and other styles of dresses with a V-shaped neckline are perfect for lengthening the torso and drawing the eye vertically, minimizing the horizontal line of your shoulders. Wrap dresses crisscross across the body and tie in the middle, putting the focus squarely on your waist. They bring attention to your midsection and preventing you from looking boxy. Look for vertical details in tops, such as cascading ruffles, to soften and lengthen your upper half. Avoid boat-neck dresses that draw the eye horizontally and dresses that have any kind of shoulder design or embellishment.
Color-Blocked Dresses
Use color-blocking to visually narrow parts of your body and highlight others for the look of a perfectly sculpted physique. A long-sleeve dress with black or dark-colored side panels and a lighter color running down the front brings attention to the middle of the body, slimming the shoulders and outer sections. Wear dark-colored coats, jackets and outerwear with lighter colored dresses to minimize your upper half and bring balance to your silhouette.
Full-Skirted Dresses
Wear dresses that have volume below the waist to create proportion. Tulip skirts or skirts with tiers are flirty and feminine, and also add fullness. A floral design or other print on a skirt with a solid-color blouse or shirts can add fullness to your lower half and draw attention from your wider top. Use belts with wide skirts to define and draw attention to your waist and create an hourglass shape. Look for wide belts and statement belts that have embellishment. Avoid boxy dress styles like straight-cut shift dresses and billowy, shapeless garments like smock dresses.
References
Writer Bio
Hilary White is a professional writer and editor based in San Diego. White has been writing articles on fashion, style, fitness, nutrition, movies and entertainment since 1994. Her articles have been published in "Westways" magazine, "Pages" magazine, "Book Street USA," "Magill's Cinema Annual," and numerous titles from Visible Ink Press. White holds a bachelor's degree in English from Michigan State University.
Photo Credits
Digital Vision./Photodisc/Getty Images