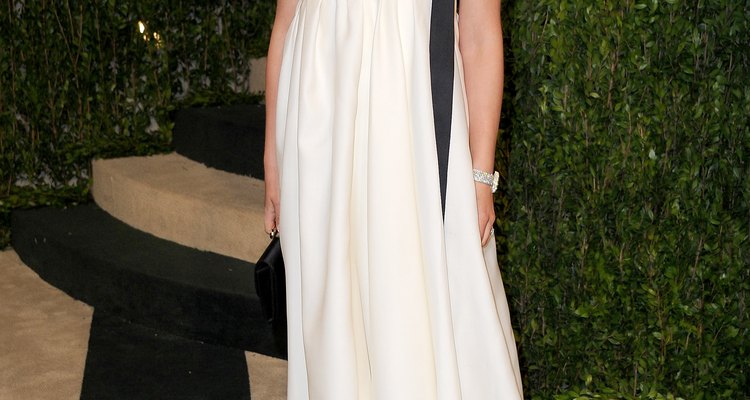 Pascal Le Segretain/Getty Images Entertainment/Getty Images
Formal balls, parties and events mean serious shopping stress, especially if you're not a perfect, tall and slender hourglass. If you are petite and bigger on the bottom half, or pear-shaped, choosing a gown can be especially challenging. You may find both sizing and style problems, whether you're looking for a sleek black gown or something with spangles and sparkles. With smart styling and shopping, you can find a gown that is beautiful and elegant, allowing you to look and feel your best.
Identifying Your Figure
Pear-shaped figures are bottom-heavy, carrying weight through the hips and thighs. The upper body, including the bust and shoulders are often significantly smaller than the hips and bottom. Your waist may be slender in relation to your figure or somewhat thicker. You can be a slender short pear shape or a plus size pear, but the fitting challenges are the same. Depending upon the cut of the dress, you may even find that you need different sizes on the top and bottom.
Choosing an A-Line
A-line gowns are one of the best choices for a pear-shaped figure. These gowns are fitted through the bust, coming to an empire waist, high waist or natural waist. The skirt flares from the waist, without gathering or pleating, in an A-shape. The fuller skirt helps to disguise broad hips and thighs, drawing the eye upward to your waist, bust and shoulders. You can also wear a slimmer A-line style, flaring more gently from the hips. This is especially flattering if you are quite petite, both in height and build. Too much dress may overwhelm your smaller figure. In most cases, the fullness of the A-line skirt allows you to choose a size to fit your bust, but you may need alterations if you opt for a slimmer style.
Opting for a Ballgown
Ballgowns are also a figure-flattering option for pear-shaped figures. Ballgowns have very full skirts, attached to a tightly fitted bodice. If you have a short torso, make certain the dress reaches an appropriate point on your body. You may find it easier to wear a higher, empire-waist ballgown style. Skirt fabrics range from delicate tulle and organza to heavier and weightier fabrics. A lighter fabric can help keep a ballgown in proportion with a shorter figure. The fullness of the skirt hides heavier hips, while the snug bodice emphasizes the slimmer upper body. Ballgowns are ideal for very formal events, allowing you to show off your inner princess. With a full gathered skirt, the ballgown can be relatively easy to fit, but you may need alterations if your waist and bust are smaller or larger than average.
Adding the Details
Embellishments and details can help to draw attention to your best features and keep the eye away from those you'd prefer not to advertise. Choose gowns with detailing, including lace, beading, sequins or embroidery above the waistline, particularly along the bust, neckline or shoulders. Emphasize a slender waistline or create the illusion of one with diagonal gathering or ruching that crosses the torso, waist or hips. Keeping the detailing above the waist can also make it easier to have your dress hemmed or shortened from the bottom.
References
Writer Bio
With a master's degree in art history from the University of Missouri-Columbia, Michelle Powell-Smith has been writing professionally for more than a decade. An avid knitter and mother of four, she has written extensively on a wide variety of subjects, including education, test preparation, parenting, crafts and fashion.
Photo Credits
Pascal Le Segretain/Getty Images Entertainment/Getty Images