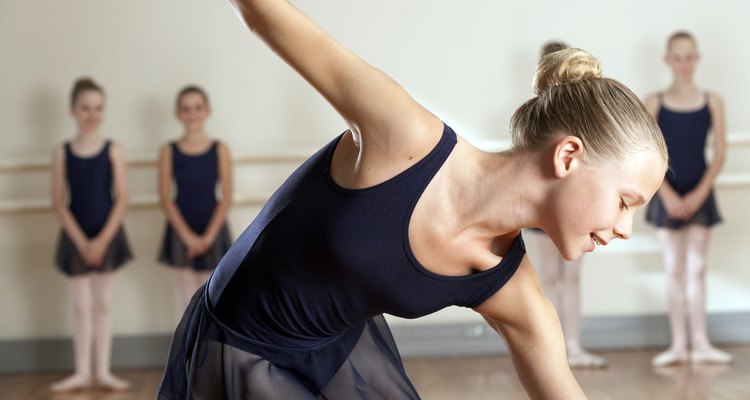 Goodshoot RF/Goodshoot/Getty Images
Finding a good leotard can be difficult if you are top heavy. An enhanced bustline is often a rarity in the world of dancers and performers, thus the pool of properly fitting, supportive leotards can be slim. However, knowing what to look for in the right leotard for your bust size will certainly save both time and effort, while yielding a leotard that is right for you.
Built-in Bras
Women with a larger bustline must ensure that they're picking leotards that offer support to prevent bouncing and potential ligament damage in the breasts. Leotards with built-in bras are a great option. A built-in shelf bra is a minimum for a medium bust, but leotards with underwire bras are a better option for a large bust. Some women will wear additional support underneath their leotards as well, though this is not usually preferable.
Customized Leotards
While having a leotard customized to your body specifications can be pricey, it's an investment that is well worth it. Customized leotards are made to fit your body at every angle, work specifically with your body type and move with ease. You can also choose fabrications, necklines and embellishments to capture your own personal sense of style.
Minimize the Bust Area
Besides having good support in a leotard, many women like to draw attention away from their bustline as well. This is where having a good minimizing bra underneath or built in can help to take the focus off of a larger bust. Moreover, different types of necklines, like scoop necks, light V-necks and halters that don't have plunging necklines or low cut sides can actually make the bust appear to be smaller.
Seaming Details, Structure and Fabrics
Details like side and under bust seaming, built-in structure and leotards that contain quality brand-name spandex, can also add much needed support within a leotard. In addition, these types of details are natural bust minimizers, helping to pull the bust in, downplaying your chest and drawing the attention elsewhere.
References
Writer Bio
Qiana Williams has more than 15 years professional experience in the fashion industry, writing on fashion trends and style, beauty, business, family, relationships and more. Williams runs her own PR, event planning and marketing firm in New York, and is currently authoring her second novel.
Photo Credits
Goodshoot RF/Goodshoot/Getty Images