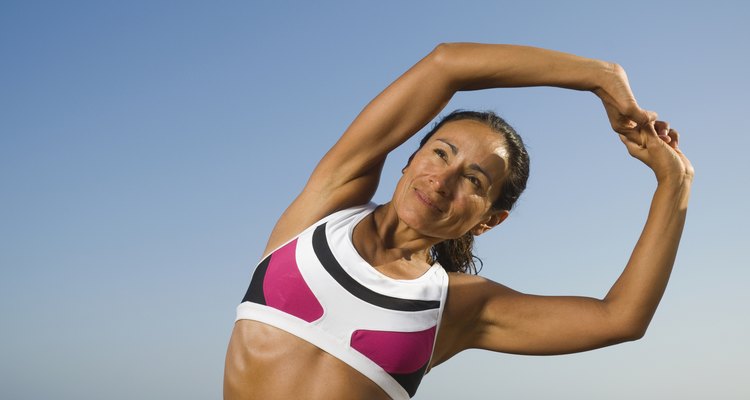 Erik Isakson/Blend Images/Getty Images
One of summer's many hallmarks is the swimsuit -- feeling comfortable, stylish and supported in your suit can make all of the difference between tolerating pool time and lapping it up. Suits that offer the most bust support range from the sporty two-pieces to fuller coverage maillots. But as Charla Krupp, author of How Not to Look Old, told Oprah.com, "Fit the bust first." As breasts lose their lift, finding supportive swimwear is your first priority.
Built-In Support and Straps
Support comes in many forms, but it starts with built-in assets and sturdy straps. Built-in supports lift and cup your breasts for maximum hold and stability, so look for swimsuits with a formed bust, padding and underwire.
Sturdy, wide straps are not only supportive, but they maximize comfort as well. Small straps slide around and create uncomfortable grooves in your skin, but wide straps won't dig into your skin and are strong enough to hold your breasts in place. Halter tops offer style and support, and they come in bikini, tankini and one-piece styles.
Style and Color
Although tankinis are often the go-to recommendation for older women, Charla Krupp told Oprah.com that most tankinis are sans bra, so they are the worst choice for saggy breasts. Plus, they move around a lot and often reveal your midsection, so go with a one-piece shaper suit instead. If you're looking for décolletage coverage, too, a high-cut, one-shoulder design is sexy yet conservative and supportive.
When it comes to color, go dark. Think cranberry, dark blue and black, as they are both flattering and slimming. Prints and patterns can be diverting, but steer clear of horizontal stripes and animal prints that drag your breasts down.
Where to Buy
Bra stores that offer a selection of swimwear are a good starting point, as their sales teams are experts in bust support. Custom swimsuit shops are also staffed with employees that know how to achieve the perfect fit, and they usually offer brands that feature superior technology for maximum support. The same goes for athletic stores equipped with swimwear; athletic swimwear is, at its core, designed to handle all sorts of movement, as well as offer superior support. Check these stores for high-tech designs to hold your bust in place.
Fabric
Most shapewear suits are created from fabrics that have a slimming effect, and the materials used also offer a great deal of support. Fabrics such as Lycra and nylon help lift your breasts, all while creating a lean look.
One final tip: Although bust support is your first priority, keep in mind that one style doesn't suit all. Buy a swimsuit according to your body shape.
References
Writer Bio
With 10 years of journalism experience, Alissa Marrapodi is the managing editor of Boardroom Journal and Food Product Design. Covering everything from health and nutrition to beauty and fashion, she holds a bachelor's degree in journalism from the Walter Cronkite School of Journalism and Mass Communication at Arizona State University.
Photo Credits
Erik Isakson/Blend Images/Getty Images