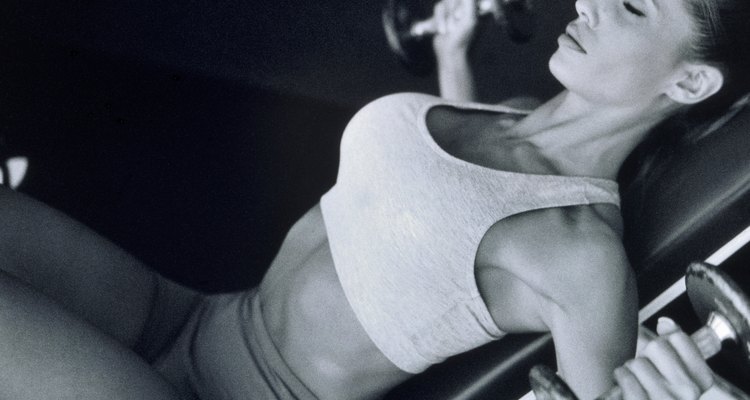 Purestock/Purestock/Getty Images
A good sports bra is comfortable, doesn't dig into your skin and helps wick away sweat. A properly fitted sports bra may also help delay unsightly breast sagging that may occur as women age. Women with A to C cup breasts should look into compression-style sports bras, while women with D cup breasts or bigger should shop for encapsulating styles.
Minimize Movement
Whether running on a treadmill or playing a sport, a sports bra helps minimize the movement of your breasts. Band-like compression-style sports bras hold the breasts tightly to your chest and are well-suited for small to medium-sized breasts. The encapsulated-style sports bra more closely resembles a regular bra; it supports each breast on its own and is ideal for larger-sized breasts. It may also feature underwire as well as adjustable support.
Maintain Breast Shape
Exercising without the proper chest support may contribute to pain and discomfort, and stretched skin and ligaments, which may lead to droopy, saggy breasts. Sports bras offer support to keep this condition from happening prematurely. When choosing a sports bra, consider the kinds of activities you participate in. The higher the intensity of your workout or sport, the more protection and support you will need. Furthermore, select a sports bra that stays in place yet doesn't cut into your skin.
Stay Comfortable
A good sports bra will help wick away sweat as well as keep you cool. Many sports bras feature a variety of fabrics that are lightweight but allow for air circulation. For example, a sports bra with a cotton and polyester blend will feel soft and wick away sweat, while a CoolMax polyester and Lycra spandex blend provides moisture-wicking benefits as well as stretchy support. Try on different styles to see which one works well for you. Consider any allergies you may have to particular fabrics.
Store Valuables
Some sports bras feature small pockets that may be used to store a set of keys, your driver's license or gym membership cards, or a mini MP3 player. This helps reduce the amount of stuff you need to carry around while you exercise, and frees up your arms and waist from arm bands, fanny packs and other methods of carrying items. It also makes for a convenient and safe place to store your valuables..
References
Writer Bio
Susan Diranian is a writer for various online publications and magazines, specializing in relationships, health, fashion, beauty and fitness. She holds a Bachelor of Arts in English with a concentration in nonfiction writing and editing.
Photo Credits
Purestock/Purestock/Getty Images