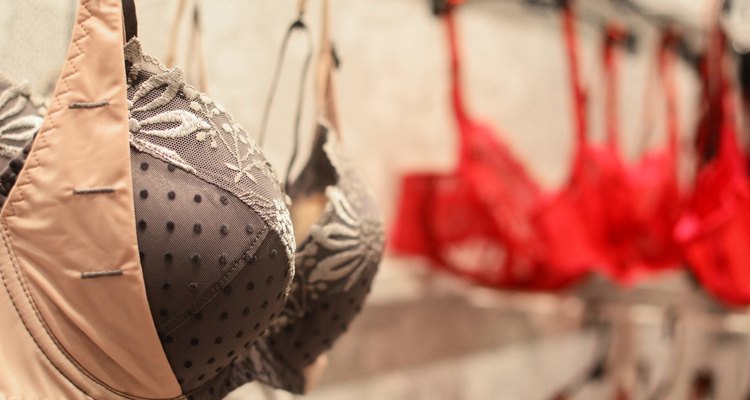 Grosescu Alberto Mihai/iStock/Getty Images
A top with wide armholes, like a tank top, gives the world a peek at your side bra any time you raise your arm higher than your shoulder. Other factors that cause peeping side bra are ill-fitting underwires that force the breast tissue to pool under the arms and wearing clothes the wrong size. Regardless of the reason, showing any part of your bra is unstylish and embarrassing. Keep your bra hidden by making a few adjustments to your wardrobe choices.
Examine the armholes of any sleeveless shirts before buying them. If possible, try them on first with the bra you plan to wear with it. Avoid buying shirts or dresses with large-gapped armholes.
Tighten the armholes of a shirt by stitching it up 1 inch along the seam. This makes the armhole smaller and hides your bra. Take the shirt to a seamstress if you do not like to sew.
Place double-sided tape on the outside of the side bra and tape it to the inside of the shirt to keep it in place.
Wear a sports bra, bandeau or smaller tank top over your regular bra. Choose a sports bra in a similar color to your top or a bandeau or tank top in a contrasting color for extra style points.
Visit a lingerie or department store and have a bra fitting. Wearing the wrong size bra could mean your bra is resting too high on your sides. You should wear the right sized bra for the best fit and comfort.
Select a bra with deeper cups. Deep cups allow the breasts to rest in the front of your chest rather than slipping under the arms.
Keep a cute jacket or overshirt handy if you wear a shirt that gaps in a public place.
References
Writer Bio
Mimi Bullock's writing reflects her love of traveling the back roads of small towns and sampling the local cuisine. As a regular feature writer for "Southern Hospitality Traveler" and journalist for "Beachin' Magazine," she gets to experience the rich heritage of the southern culture. She is also a licensed cosmetologist who has her own skin care line.
Photo Credits
Grosescu Alberto Mihai/iStock/Getty Images