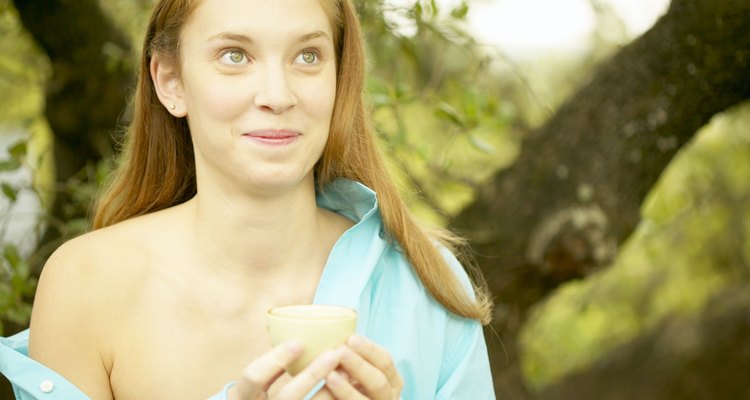 Jupiterimages/Photos.com/Getty Images
Wardrobe malfunctions can happen at any time when clothing rips, gets stained or just will not stay in place. If a particular shirt is giving you trouble, avoid potential embarrassment in public or personal hassle from having to excuse yourself to the bathroom to fix it every five minutes by employing one of several alterations you can do at home.
Measure your bodily dimensions, then compare these to the dimensions for sizes provided by the manufacturer of the clothing brand of your shirt. Use a sewer's tape measure (one made of fabric, not metal like those sold in hardware stores) to measure your neck, chest and waist. Obtain a sizing chart from the company's website or the retailer where you purchased the shirt. Choose a size shirt with a range of dimensions that include yours to obtain a more comfortable fit.
Secure the shoulder part of the shirt thatkeeps falling off to your bare skin with clothing tape. This tape is double-sided and is meant to hold clothes in their place. Be sure to remove the tape from your clothing before washing.
Pinch together a small piece of fabric from your shirt behind your neck, and secure it with a safety pin to create a tighter fit around your shoulder area. Girls can also secure the side of their shirt that keeps falling to the bra strap on the same shoulder with a safety pin.
Tighten the straps on the shirt if it is a spaghetti strap tank top. Most come with small plastic length adjusters on the backside of the shirt, but others will need to be removed from their stitching. If this is the case, pull one or two stitches from the shirt that are keeping the strap on. Cut an equal length from both shoulder straps, and resew to the back of the shirt.
References
Writer Bio
Bailey Richert is a 2010 graduate of Rensselaer Polytechnic Institute with a dual bachelor's degree in environmental engineering and hydrogeology, as well as a master's degree in systems engineering. After several years in the environmental consulting industry, she is now attending MIT for graduate school. An accomplished traveler, she has visited 23 countries and published her first book about international travel in 2014.
Photo Credits
Jupiterimages/Photos.com/Getty Images