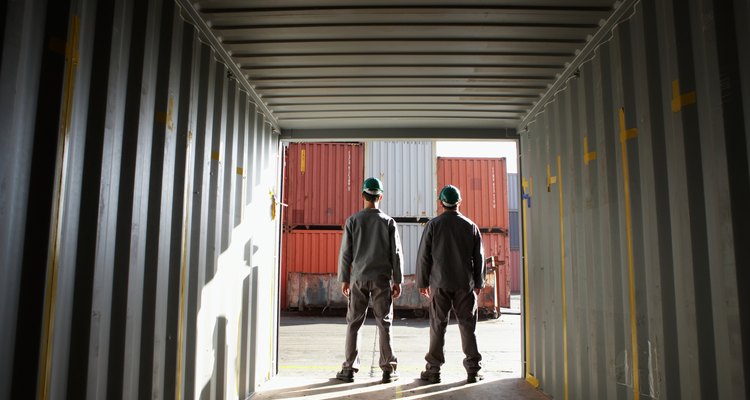 Tay Jnr/Digital Vision/Getty Images
Having stepped out of the farmer's shadow, bib overalls appear in a variety of colors, fabrics and styles for men's casual wear. Pair them with a tee, a crisp button-front shirt, or a turtleneck sweater and wear them any season. Bibs have button fasteners at the waistline on each side and adjustable shoulder straps, so you can get a perfect fit, whether you wear a one-sided bib or go for the complete-coverage look. Although bib-overall sizing has some quirks corresponding to body type, you'll find waist and inseam measurements on the tag to use as guides.
Measure your waist size at the belly button line, and buy at least one size larger. It may seem huge, but many men wear regular pants and jeans below their waist or tucked under a waistline overlap, so the number size of the waist of their regular pants is not big enough for a comfortable fit in bib overalls. Overalls need to be somewhat loose for ease of movement.
Measure your inseam from crotch to hem. This measurement is not as specific as the girth, because the hanging length of the overalls changes as you adjust the shoulder straps. The inseam does need to be long enough for the overalls to fit comfortably without binding at the crotch.
Try on the bib overalls, fastening the side buttons. The overalls should rest comfortably around the waist without being tight. If you plan on wearing only one shoulder strap fastened for a casual look, make sure the waist buttons fit snug enough to hold the overalls in place. If you'll wear both shoulder straps fastened, adjust them so they hold the bib portion in place without binding your shoulders.
References
Writer Bio
Fern Fischer's print and online work has appeared in publications such as Midwest Gardening, Dolls, Workbasket, Quilts for Today and Cooking Fresh. With a broader focus on organic gardening, health, rural lifestyle, home and family articles, she specializes in topics involving antique and modern quilting, sewing and needlework techniques.
Photo Credits
Tay Jnr/Digital Vision/Getty Images