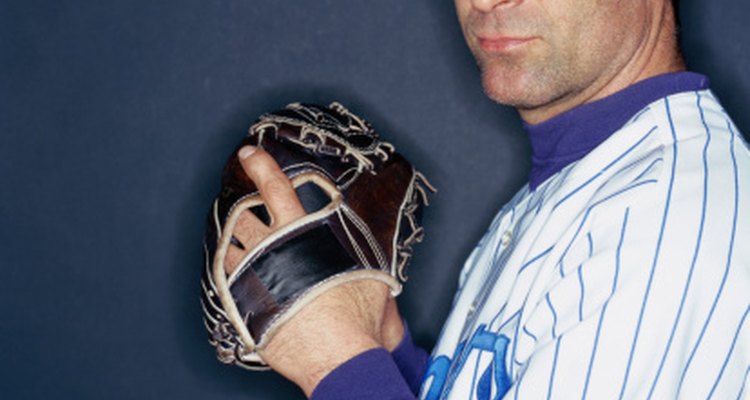 Ryan McVay/Digital Vision/Getty Images
Authentic jerseys produced for Major League Baseball are part of an industry that generates millions of dollars in revenue each year. But because of profitability and demand from baseball fans, fake or counterfeit jerseys are also produced and offered for sale as authentic. By knowing where to look and paying attention to details, such as logos and stitching, you can authenticate the jersey of your favorite baseball player and purchase it with confidence.
Check for the Major League Baseball (MLB) logo of authenticity, usually located on the back neckline or bottom front of the jersey. The logo should have the official MLB image -- a baseball player silhouette with a blue and red background -- and the words "Authentic Collection." The logo will be sewn into the jersey, rather than placed on the jersey as a sticker.
Inspect the stitching on the player's name, team logo and jersey number. Authentic MLB jerseys have professional tailoring and stitching that is evenly spaced throughout the garment.
Examine the tag of the manufacturer for the words "Style 6200" located underneath the "Majestic Athletic" company logo on the neck tag. Majestic Athletic is the only company that manufacturers official MLB jerseys, making it somewhat easy to spot an inauthentic replica.
Look for the "Majestic Athletic" company logo in three places on the jersey: neck tag, bottom right corner and left sleeve.
Examine the color of the stitching to see if it matches the exact shade of the team's colors.
References
Writer Bio
Paul Lin has been writing professionally since 2010. He has written scripts for the National Science Foundation and short films that have won awards at film festivals. Lin holds a Bachelor of Arts in scriptwriting from the University of North Texas.
Photo Credits
Ryan McVay/Digital Vision/Getty Images