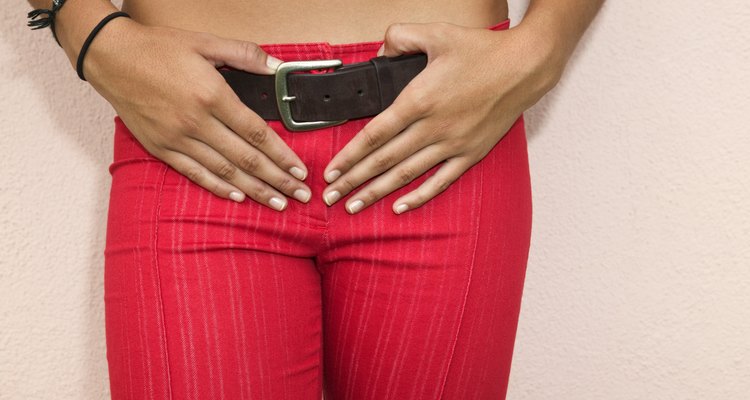 Thinkstock Images/Comstock/Getty Images
Coogi is a popular clothing designer, particularly in the urban clothing market. Authentic Coogi jeans may range anywhere from $70 to $150, depending on where you make your purchase. If the price of your Coogi jeans seems to good to be true, chances are it probably is. In most cases, if a seller is offering you a "wholesale" deal, you're probably purchasing fake Coogi jeans. The best way to ensure that you get authentic Coogi jeans is to shop at reputable retailers or visit shopcoogi.com.
Compare interior labels. Get a pair of Coogi pants you know are authentic and compare them to yours. Interior labels on your Coogi pants will give you a fair indication of authenticity. Notice the placement of any tags. Look for off-center tags that may not be properly stitched into the interior of your Coogi pants. Compare the interior pocket stitching between a pair of authentic Coogi pants and the ones you have.
All Coogi pants use a yellow C, blue O, green O, orange G and a red I. Exterior logos and designs on your Coogi pants will usually correspond to this "color code." Look at the logo design for potential discrepancies. You'll typically find Coogi logos on the back and front pocket area, as well as the waist band. Some fake Coogi jeans may be nearly identical, but there will usually be one or two differences between the two. One of those differences may be exterior stitching. Look for loose threads and stitching that doesn't match the color of the logo on your Coogi pants.
Check for discoloration and fading. Authentic Coogi pants use smooth fabrics and textures. Fake Coogi jeans may use rougher, more coarse feeling fabrics. If your Coogi pants have a dirty or dingy appearance, they are probably not authentic. Check with a salesperson at a reputable retailer such as Man Alive, to help with questions regarding the authenticity of your Coogi pants.
Look at the tags. Price tags should be attached from the store you purchased them from, and from Coogi. Notice the buttons and waistband logo on your Coogi pants. Again, look for inconsistencies in design and stitching. In some instances, your Coogi pants may have a "C" button as part of the design. The "C" should appear slightly crooked as opposed to straight.
Avoid purchasing your Coogi pants from individuals or online eBay sellers. Purchasing your Coogi jeans from online sellers may increase the likelihood that you're buying fake Coogi jeans. Additionally, many fake Coogi jeans originate in Hong Kong and China. Avoid purchasing your Coogi pants from overseas sellers in these countries.
Writer Bio
Christopher Carter loves writing business, health and sports articles. He enjoys finding ways to communicate important information in a meaningful way to others. Carter earned his Bachelor of Science in accounting from Eastern Illinois University.
Photo Credits
Thinkstock Images/Comstock/Getty Images