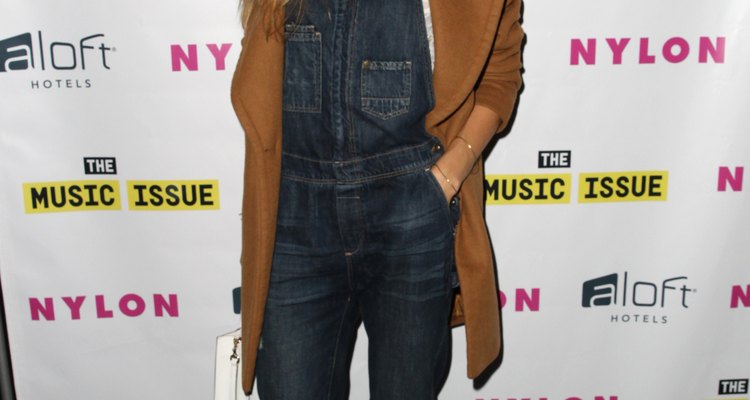 Jonathan Leibson/Getty Images Entertainment/Getty Images
Because overalls cover both the legs and belly, you have to do a little more measuring than you would for a simple pair of pants. While cuts range from classic, rugged work wear to slimmer fashion-oriented styles, the basic sizing process remains the same across types -- you'll need to break out the measuring tape and a size chart to get a stylish, comfy fit.
Put on your favorite jeans, a pair that has a fit similar to the overalls you want.
Stand barefoot on flat ground with your feet about 6 inches apart. Place one end of a flexible measuring tape on the floor, starting at the bottom hem of your jeans. Stand straight up and run the tape up the inside of your leg to the bottom of the crotch seam. Take note of this measurement -- it's your inseam.
Wrap the tape around the widest part of your stomach. Take this measurement a little higher than you would the waist measurement of normal pants; it falls a few inches higher than the waist line, typically right about the belly button. Keep the tape level and snug, but not too tight. You'll likely need this measurement whether you're a man or a woman.
Place the end of the measuring tape at the crotch seam and measure up to the top of your shoulders. This is the front length. Knowing this measurement will help when you are adjusting the overalls straps.
Measure the hips if you're sizing women's overalls. Stand up straight, keep your feet together and snugly wrap the tape just below your waist at about mid-crotch level. Ensure that the tape remains level and record this measurement.
Consult the overall manufacturer's sizing chart, usually available at the manufacturer's website or from the overall retailer. These charts, usually divided by men's and women's sizes, typically list some combination of inseam, waist, chest or bust and seat measurements. Some, however, require only your height and weight. Use the chart to determine your recommended overall size based on your measurements.
References
Writer Bio
With a diverse professional background and a decade of experience as a freelance writer, Dan has contributed lifestyle content -- from fashion to travel to fitness and more -- to publishers including Chron, Fortune, Sony, GlobalPost, ModernMom, Moviefone, Salon.com, Techwalla and dozens of others.
Photo Credits
Jonathan Leibson/Getty Images Entertainment/Getty Images