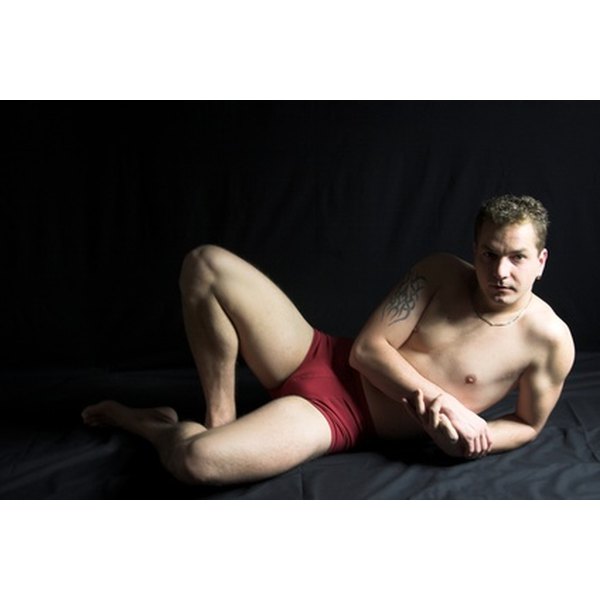 The popularity of shapewear for women has given rise to equally body-enhancing undergarments for men. Clothing manufacturers such as Marks & Spencer, International Jock, and AussieBum have introduced specialty boxer briefs and jock straps meant to boost the most important part of the male anatomy. But you don't have to pay up to $30 for one of these garments when the items you need are already lying around your house.
Items you will need
Underwear
Two-sided clothing tape
Padding
Padding Magic
Step 1
Choose a pair of briefs, boxer briefs, or a jock strap to which you'd like to add padding. Make sure they're tight enough to keep the fabric in place.
Step 2
Choose some padding to insert into the undergarment that you chose. Try out several kinds to determine the most comfortable. This can be one or two socks, a small folded t-shirt, or a shoulder pad removed from an old suit. If you're brave enough, you could even use a woman's maxi-pad.
Step 3
Attach a piece of two-sided clothing tape to one side of the padding and stick the other side to the front of your undergarment. The tape allows you to remove or adjust the padding at will.
Tips
A technique from the 1970s was to use sandpaper on the outside of a pair of jeans, to lighten the fabric and draw attention to the crotch area.

Insert a reasonable-sized cucumber, orange, apple or other piece of fruit. Sure, it's easy to laugh at this tried-and-true- technique, but as long as you're wearing boxer briefs or other underwear tight enough to keep it in place and you're sure you'll be undressing in private, there's no harm.

Alternatively, if you know you won't be removing the padding, you can choose padding the same color as your underwear and sew it into the fabric. This makes it less noticeable, whether in the locker room or the bedroom.