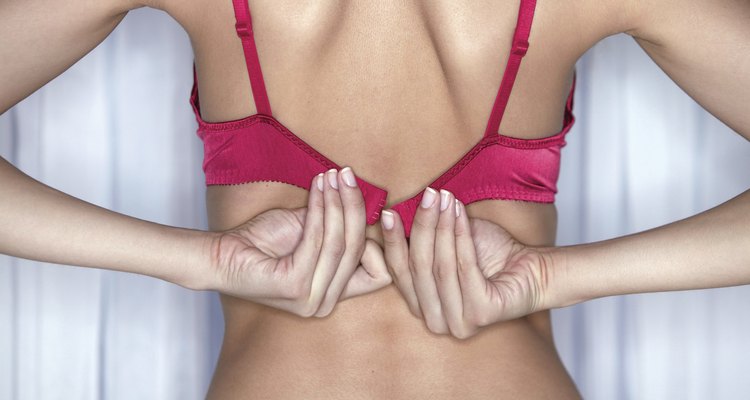 Comstock/Comstock/Getty Images
A long-line bra shapes the torso and waist in front, while providing bust support for backless dresses. Some long-line bras offer a strapless option for revealing evening wear or wedding gowns. For best fit and comfort, purchase your long-line bra using your usual bra size or have a specialty store associate perform a bra fitting if you are not sure what size you need. While properly wearing a long-line bra, your back and bust should feel supported without strain or discomfort.
Stand facing the long-line bra and line your breasts up to the cups.
Pull your arms through the straps, if applicable, and slide your breasts into the cups of the long-line bra.
Ask a second person, such as your Maid of Honor or a partner, to fasten the bra in back.
Adjust the long-line bra and its straps until your breasts fill the cups and the waistband runs around you parallel to the floor. A waistband that pulls upwards may signal that the bra doesn't fit correctly. Try fastening the bra on a tighter closure if possible.
Writer Bio
Andrea Lott Haney writes articles and training materials for food industry publications. Having studied foodservice sanitation, nutrition and menu planning at Purdue University, Lott Haney has more than 10 years of experience as a catering and event planner for luxury hotels and currently tours the Midwest as a corporate customer service trainer and consultant.
Photo Credits
Comstock/Comstock/Getty Images