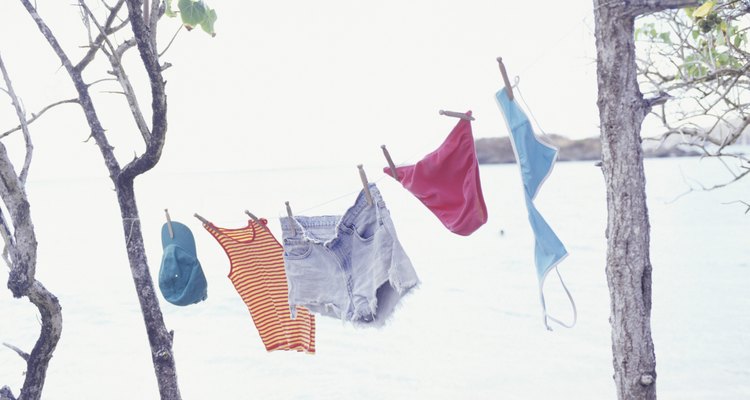 Steve Mason/Photodisc/Getty Images
A good bra is hard to come by, which is why you want to preserve it for as long as possible. This leads many women to take the time and care to hand wash their nylon or cotton bras, which isn't always necessary. It's acceptable to wash your comfortable "everyday" bras constructed from cotton, nylon and polyester in the washing machine inside a mesh lingerie bag. However, if the bra is made from a delicate material, such as lace or satin, or if it was expensive, separate it and hand wash the piece, instead.
Step 1
Combine 1 tablespoon mild laundry soap and 3 cups cool water. Dampen a washcloth with the soapy mixture and gently work it into any stains or yellow discolorations on the bra. Rinse out the soap under a cool tap. A mild soap contains no dyes or perfumes.
Step 2
Latch all the hooks on your bras and place them into a mesh lingerie bag. Close the bag and place it into the washing machine. The zippered mesh bag stops the bras from twisting inside the washing machine, preventing damage.
Step 3
Add a laundry detergent formulated for use on the gentle cycle or a lingerie detergent to the washing machine according to the package directions. Chris Allsbrook, an analyst with the Dry Cleaning & Laundry Institute recommends washing the bras with other light fabrics and avoiding heavy fabrics that could damage the bra and underwire. Set the washing machine to a cold temperature and delicate cycle.
Step 4
Allow the washing machine to finish its final cycle. Remove the mesh lingerie bag from the washer and pull out the bras. Reshape any bras featuring molded cups with your hands. Hang the bras to dry on an outside or indoor clothing line, or drape them over a drying rack. Never place the bras in a dryer. The heat combined with any remaining soapy residue on the bra can cause serious damage.
References
Tips
Purchase a fine mesh bag featuring small holes the hooks cannot get through.
Writer Bio
Residing in Chippewa Falls, Wis., Jaimie Zinski has been writing since 2009. Specializing in pop culture, film and television, her work appears on Star Reviews and various other websites. Zinski is pursuing a Bachelor of Arts in history at the University of Wisconsin.
Photo Credits
Steve Mason/Photodisc/Getty Images