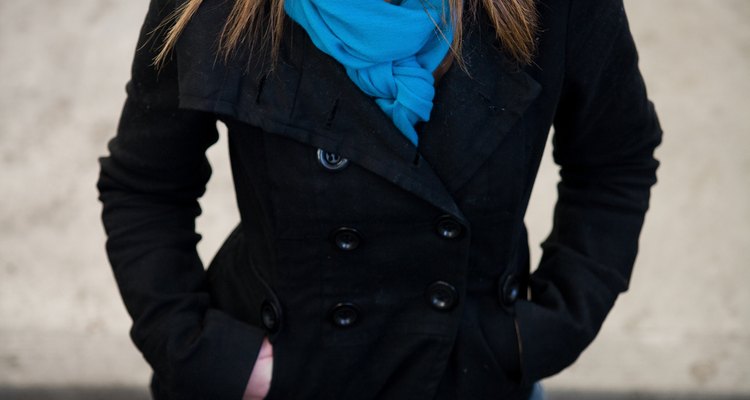 Jupiterimages/Photos.com/Getty Images
Although many women like sporting a slim bottom, others desire a rounder, more voluptuous posterior. Exercises targeting the butt or cosmetic procedures like implants may add thickness; however, for a short term solution, you can simply make fashion changes to your wardrobe. Certain fashion choices highlight the waist and legs while giving the illusion of a larger bottom. Other tricks, like layering clothes and wearing the right style of shirt, can help you achieve the appearance of a big derriere as well.
Wear a pair of foam or silicone panties. You may have to replace these panties over time as they tend to flatten with wear and laundering. Attach adhesive enhancer pads to your regular panties for a similar effect.
Try on a pair of high-waisted pants. High-waisted pants have a thick fabric band around the waist that draws the eye upwards to your waist, rather than your bottom. Choose a pair of boot-cut, high-waisted pants. Boot cut pants and jeans make the bottom half of your body look larger. Select pants that have pleats or back pockets.
Select a skirt in an A-line style. The A-line skirt attracts the eye to your waist and legs without defining the area where your bottom should be. Wear a belted dress that highlights your figure without drawing too much attention to your rear.
Wear a top with a bottom hem that falls along the middle of your butt. A blouse with a ruffled or flowing bottom hem also adds to the illusion of a fuller derriere.
References
Writer Bio
Mimi Bullock's writing reflects her love of traveling the back roads of small towns and sampling the local cuisine. As a regular feature writer for "Southern Hospitality Traveler" and journalist for "Beachin' Magazine," she gets to experience the rich heritage of the southern culture. She is also a licensed cosmetologist who has her own skin care line.
Photo Credits
Jupiterimages/Photos.com/Getty Images