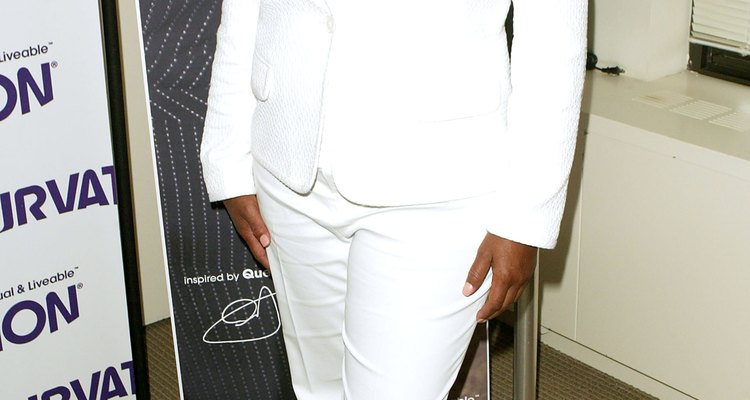 Peter Kramer/Getty Images Entertainment/Getty Images
When you have a full figure, the right clothing can instantly help you look taller and slimmer. Finding a good pair of pants is particularly important since they can take you from the office to lunch with friends to a night out on the town. For a full-figured body, you should choose a cut that helps balance your shape so it appears longer and leaner. Several different types of pants fit that bill, so you can find flattering casual and professional options to fill your wardrobe.
Go Straight
When you're full-figured, you don't want your clothing to add any unnecessary bulk to your shape – that's why straight leg pants are so flattering. Since they are the same width from the thigh to the ankle, they create a lean look for your figure. Choose a suit in a neutral color like black, charcoal or navy with flat-front straight leg trousers and pair it with a silk shell and pumps for the office. On the weekend, opt for straight leg jeans and wear them with a V-neck T-shirt or sweater and ballet flats for a comfortable, low-key look.
Go Wide for Balance
Wide-leg trousers are a flattering pants style for many body types, but they work particularly well if you're full-figured. The extra width in the pants' legs helps balance out your shape – but the length of the pants is key. Choose a long pair that skims the floor when you're wearing pumps or heeled boots to make yourself look taller and leaner. Wide-leg trousers have a polished, formal appearance that is ideal for the office. Wear a pair of black wide-leg trousers with a fitted button-down blouse and patent leather pumps to create a flattering work-appropriate outfit.
Try a Boot Cut
All full-figured body shapes are not created equal. If you carry most of your weight in the upper half of your body, boot cut pants are an ideal option. The slight flare at the ankle counters a larger upper half and creates a more balanced silhouette. Wear a pair of boot cut corduroy pants with a fine gauge scoop or V-neck sweater and ankle booties for a dressed up weekend look. For an evening out, pair boot cut jeans in a dark wash with a tailored blazer, lacy camisole and stiletto boots.
Look for Vertical Details
When you're full figured, pants with vertical details can be flattering because they elongate your legs so you look taller and thinner. Trousers that have creases down the front can create a lean look for your body. Pair charcoal creased trousers with a cobalt blue button-down blouse and black pumps or boots to look long and lean at the office. Pants with thin pinstripes are also slimming on a full figure. Try black and white or black and gray pinstripe pants with a colorful blouse or sweater in a shade like red or magenta to look polished and professional for work.
References
Writer Bio
Based in New York City, Jennifer Blair has been covering all things home and garden since 2001. Her writing has appeared on BobVila.com, World Lifestyle, and House Logic. Blair holds a Bachelor of Arts in Writing Seminars from the Johns Hopkins University in Baltimore, Maryland.
Photo Credits
Peter Kramer/Getty Images Entertainment/Getty Images