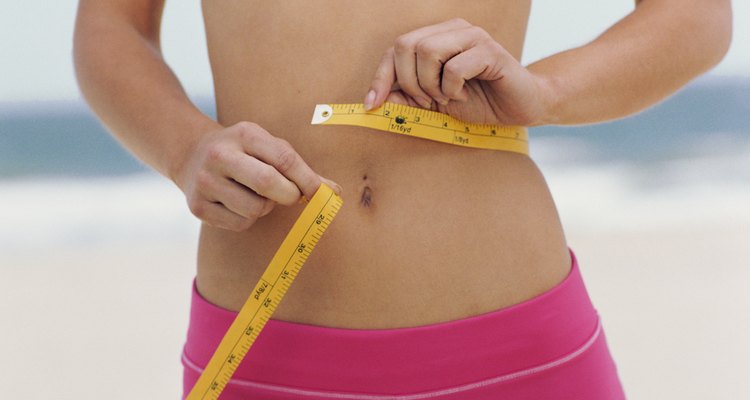 Siri Stafford/Photodisc/Getty Images
Don't shy away from wearing any style or outfit if you carry your curves in different places. Knowing your body type helps you make ensemble adjustments within your wardrobe picks. It also narrows down what to look for when shopping, helping you shop by fit and not by size for your best look. Make your full-length mirror and flexible tape measure your allies. Taking body measurements of your shoulders, bust, waist and hips helps you determine how your body shape is proportioned and which body type descriptions fits you.
Pretty, Sassy Apples
Gals that carry a bit more weight around the waistline but have a narrow bottom half are referred to as apple body types. Since you have narrow hips and thin, shapely legs, dare to wear mini skirt lengths and shorts with 1 to 2 inch inseams. Wearing the proper clothing shifts the focus away from your midriff and shows off your shapely legs. Mix different silhouettes from your wardrobe picks to enhance your curvy bust line, such as a deep, V-neckline to create the illusion of an elongated upper torso.
Curvy Pears
Ladies with slender, upper torsos, a defined waistline and curvy, wider hips are referred to as pear body types. Mirrors can be a bit deceiving, so compare your lower and upper body measurements. If your lower half exceeds your shoulder width, your body type is a curvy pear. Generally, stylists suggest wearing A-line skirts and wide-legged pants as well as matching colors or similar hues to create the illusion of slim hips and thighs, making your lower half look lean and elongated.
Shapely Strawberries
If your shoulders are broad with a curvy, large chest in comparison to a smaller waistline and hips, you are a shapely strawberry -- also referred to as an inverted triangle and/or wedge. Go back and check your dimensions if you are unsure about the inverted triangle frame. Your shoulder measurements are generally five percent larger than your hip dimensions. This makes your shape narrow as you move your eye from your shoulder line to your hip line. When styling your outfits, don't hesitate to define your small waist to create a curvy figure.
Svelte, Straight and Rectangle
Gals sporting a narrow torso, waistline and hips are called rectangle body types -- also known as straight or boyish. Your waistline is often undefined and your svelte shoulders and hips are similar in dimension. Create a curvy silhouette sporting detailed necklines to add volume to your top half paired with wide belts, full bottoms, pocket details or embroidered inserts to fill in your lower half.
Shaped Like an Hourglass
Well-proportioned ladies with a shapely figure are referred to as the sought-after hourglass body type. If you're looking in the mirror, your shoulders and hips are approximately the same with a well-defined waistline. Flaunt your body type playing with styles and silhouettes in different lengths, textures and color schemes to add interest to your outfits. You can also elongate your curvaceous body type donning lightweight jackets that finish at the hips and cinch your waistline to show off your hourglass shape.
References
Writer Bio
Mercedes Valladares is the founder of M721Organics and has been an independent designer for over 15 years. Her work experience commenced during college with manufacturers based in New York and Hong Kong. Her education includes LIM College, International Fine Arts College and design certification from the Paris Fashion Institute. She produces eco-crafting videos and writes recycling articles online.
Photo Credits
Siri Stafford/Photodisc/Getty Images