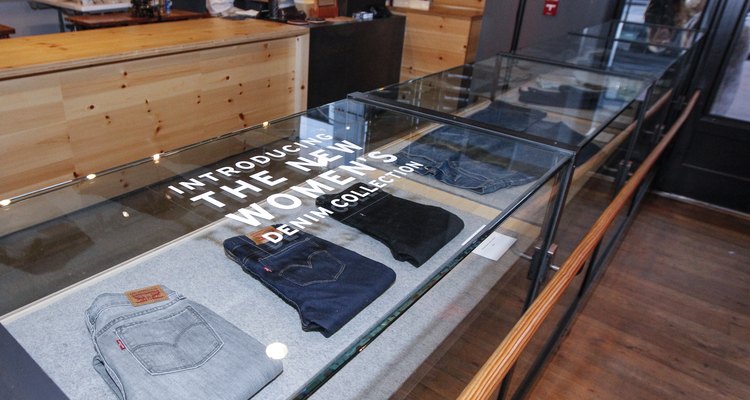 Kimberly White/Getty Images Entertainment/Getty Images
Levi's jeans are a quintessential staple item in any wardrobe. The iconic brand has been creating classic apparel since 1853 and has famously differentiated their styles by using a three digit number system. Levi's most popular mainstay is the 501 style, although many other numbered styles exist today to address different body types for both men and women.
Men's Body Types
Know your body type in order to find the perfect cut of Men's Levi's. Men usually fall into one of four body types: muscular, slim, heavy and average. Muscular types may have more bulk in the thighs and calves area, while slim figures have thinner proportions in the lower half of their bodies. Heavy set bodies tend to have wider waist lines. Average body types meet somewhere in between the other three types, combining elements of each and allowing for more flexibility when choosing a pair of jeans.
Men's Levi Jeans Styles
Levi's 550 Relaxed jeans work best with men who are heavy set or muscular. These jeans sit below the waist and have room to spare without being baggy. 550s are considered your typical work pants as the looser fit helps add space when bending down. Men with slim figures should look for Levi's Straight Leg fits. This cut sits below the waist and give thin figures the appropriate leg room they need -- not too baggy and not too tight. For men with an average body type, Levi's have an array of options such the classic 501 and Levi's regular fit, slim fit and and boot cut styles. These types of jeans flatter the average body type by hugging all the "right" areas and balancing body proportions.
Women's Body Types
Levi's jeans are also available for women in cuts that flatter each of the typical female body types. Women tend to fall into one of the following categories: athletic, hourglass, pear-shaped, apple-shaped or petite. Athletic types usually have a firm mid-section, as well as toned thighs and legs. Hourglass figures feature a narrow and defined waist and wider, curvier hips. Pear-shaped bodies are also curvy, although the contrast between the waist and hips is not as extreme. Apple-shaped bodies tend to carry their weight in the stomach and mid-section area. Petite body types can fall into any of these body types, but are shorter in height (under 5'5").
Women's Levi Jeans Styles
Women with athletic figures can show off their sleek and fit bodies with a pair of Levi's skinny jeans. Skinny jeans add body shape and curves by hugging the buttocks and thigh areas. This style can also make legs look longer, which makes skinny jeans an appropriate Levi's choice for petite women. Hourglass figures can accentuate the natural curves of their bodies and opt for high-waisted jeans or Levi's 515 Boot Cut jeans. Pear body shapes look good in Levi's flare jeans. The wider leg opening at the bottom balances out the width of the hips. Apple-shaped women should consider a Levi's 518 Low Boot Cut. The low-rise style draws attention away from the stomach, while creating a streamlined look down the pant leg.
References
Writer Bio
Diane Bautista has more than seven years of professional experience writing for a variety of industries including fashion retail, communications technology and nonprofit. She currently works as an advertising copywriter and holds a B.A. in English from Washington State University.
Photo Credits
Kimberly White/Getty Images Entertainment/Getty Images