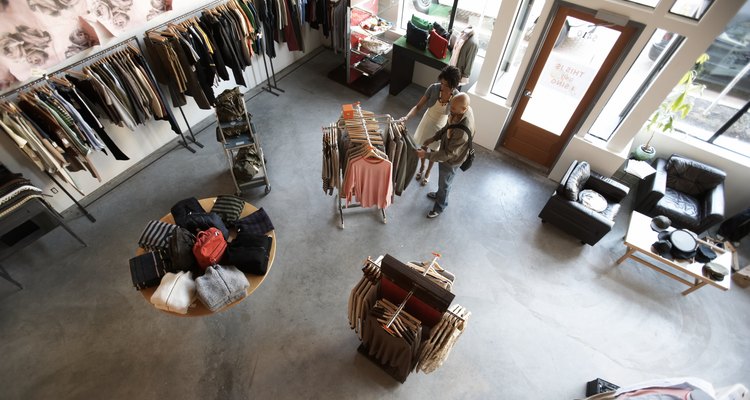 Thomas Northcut/Digital Vision/Getty Images
When navigating the racks of your local department store, it can sometimes be difficult to distinguish the difference between departments like Misses, Juniors and Women's. While they all seem so similar, it is the sizing and cut of these garments that set them apart. Keep in mind the distinctions next time you are shopping for you or for a teenager -- it will make your shopping experience run much more smoothly.
Juniors
The Juniors section of a department store contains clothes mostly for teenage girls, after they have outgrown the children's department. Their cut is tailored to fit body types with fewer curves than those of fully matured women. Denim and other clothing in the Juniors department caters to those with smaller hips and less definition at the waist. In narrower cuts and styles, Juniors clothing are sized by odd numbers ranging from 0-15 and often utilize less expensive fabrics for cheaper price points.
Misses
Misses sections are usually the largest in a department store, with scores of designer collections to account for. This sizing caters to mature women with developed figures and more curves than those of Juniors. Sizing in Misses sections run from size 2 to size 16 and sometimes 18. When compared to Juniors sizing, garments cut in misses sizing will leave more room for the bust, hips and thighs. Though both Misses and Juniors departments contain size 0 clothing, a Misses size 0 will run slightly larger.
Women's
Garments in Women's sizing are made for those with a larger, taller build and a desire for clothing that is comfortable and loose as to not restrict movement. Women's sizes are usually accompanied by a "W" and usually begin at size 12W or 14W, however, they can also be distinguished by 1X, 2X, 3X and beyond.
Petites
Petite sizes are cut with shorter sleeves and hems to accommodate shorter frames. With body heights of 5'3" and below in mind, these garments cater to women on the shorter side of the spectrum. Sizing for petite clothing varies. Characterized by a "P," sizes can range from Petite Juniors sizes (1P-13P) to Misses sizes 2P-14P. Plus Size Petite is a less common sizing system used for short, full-figured women.
References
Resources
Writer Bio
Sara Cantu has been writing fashion and lifestyle articles since 2009. As a fashion stylist, writer and blogger, she has been published in "Lady Couture" magazine and "RGV" magazine. She holds a Bachelor of Arts in journalism from The University of Texas - Pan American.
Photo Credits
Thomas Northcut/Digital Vision/Getty Images