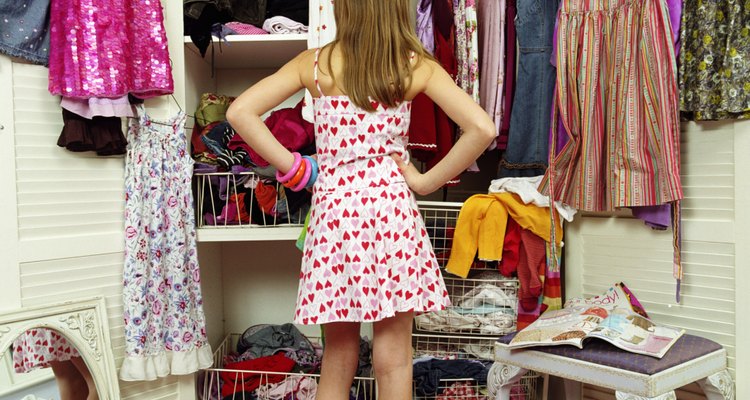 Digital Vision/Digital Vision/Getty Images
Children's wear manufacturers producing girls' clothing group apparel, such as dresses, tops and bottoms, into specific categories. Retailers include these categories within specific departments such as 4-6x and 7-16. Initial sizing calculations occur during pattern-making and fit sessions supervised by technical design departments. Girls' size 10 specifications include chest, waist and hip measurements factoring in height and weight according to the retailers' compliance requirements. Each style is subject to grading, which is a technical design process that adjusts sizes using pattern-making calculations. Since apparel manufacturers, designers and retailers differ, size charts also vary, impacting the overall fit. Cross referencing these size charts help you find comparable fits for size 10 girls' dresses.
Designer and Retailer Size Chart Comparisons
Since girls' dresses vary by silhouette and style, designers and in-store retail size charts differ as well. For example, certain designers style garments closer to the body for dresses, tops and bottoms according to their brand type. This style decision influences the silhouette cut. Retailers manufacturing in-store private label brands generally cut garments slightly larger at the chest, hip and length for a universal fit. Check and compare specification differences by designer and retailer to ensure proper fit. Cross reference girls 7-16 size charts which can also differ by height and/or weight. This is especially important if the size 10 girl is tall or short, as well as plus or petite.
Size Chart Differences
Chest, waist and hip specifications along with shoulder width and back length are key elements for a size 10 girl's dress. It is important to know the sizing chart differences prior to making your purchase. For example, sizing labels that include age range as part of their sizing chart use generalized specifications. Certain budget stores use this fit because of pricing issues. To avoid fit mishaps, try on these garment types at the store. If you are traveling and want to purchase a girl's dress, European and Japanese size charts are generally based on height while American and Australian size charts are based on weight.
Height and Weight
Since each preteen girl continues to grow throughout their adolescence, it is also important to consider height and weight for comparable size 10 dresses. Most retailers include charts with calculated inch or centimeter height measurements on their official retail store website and often times have this information readily available at the store. Measure from the top of the head to the bottom of the feet without wearing shoes using a flexible tape measure and record the height. Tall girls may have to adjust the hem length or buy a size 12 as a comparable size 10. Since height and weight vary for each preteen girl, check with a professional seamstress for suggested alterations prior to the dress purchase.
Comparable Fits
Most size charts include basic measurements such as chest, waist and hips. For example, an approximate height of 56 inches for a size 10 girl's dress most likely starts with a 28 ½-inch chest, 24 ½-inch waist and 30-inch hip specification. Since size charts differ by vendor, perform a quick in-store fit check. Hold two different size 10 girl's dress styles by the shoulder seams. The length difference becomes instantly evident when you hold both of the dresses side by side. Take the fit check one step further by holding the dresses at the side seams, which reveals width differences.
Size Label Comparisons
Reading size labels while shopping for girl's dresses helps with fit comparisons. For instance, size labels reading 8-10 generally are cut smaller to accommodate size 8 girls. Size labels reading 10-12 generally have larger silhouette cuts to accommodate size 12 girls. Small, medium or large size labels accommodate multiple sizes, altering length and width measurements.
References
Writer Bio
Mercedes Valladares is the founder of M721Organics and has been an independent designer for over 15 years. Her work experience commenced during college with manufacturers based in New York and Hong Kong. Her education includes LIM College, International Fine Arts College and design certification from the Paris Fashion Institute. She produces eco-crafting videos and writes recycling articles online.
Photo Credits
Digital Vision/Digital Vision/Getty Images