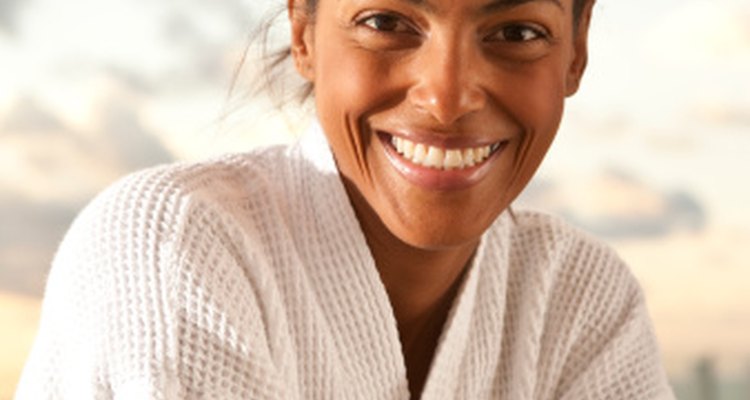 Comstock Images/Comstock/Getty Images
Knowing the difference in bathrobe sizes will help you determine which one is right for you. There are a variety of options, from luxurious silk to plush cotton. Whether you are buying a gift for yourself or a friend, knowing the correct size will spare you a trip back to the store if it does not fit correctly. The bathrobe should fit loosely over your body, adjust well to clothing underneath the robe and make you feel fabulous.
Know the height and weight before you begin shopping. If it's for a friend or relative, ask about her measurements or compare her measurements to yours.
Look at the different fabric and height options. Bathrobes come in short or long lengths, and sometimes they end at the mid-calf. Silk, cotton, twill, terry-cloth and velour are some of the fabric options. Knowing what fabric you want will help you weed through the selections.
Glance at the sizes. Commonly, you will see the letters, OSFM or "One Size Fits Most." Bathrobes are cut on an average bodice; therefore a woman who wears medium and is proportioned evenly will likely fit the description. Smaller women may have to add a hem on a longer OSFM bathrobe, and larger women may need longer sleeves. Plus-size women will also have the OSFM size in plus-size stores.
Shop around in different stores or online retailers to locate robes with actual measurements and sizes. Besides the OSFM option, robes come in petite/small, small/medium, medium/large and large/extra-large. Compare the sizes to your winter jacket. The jacket is typically larger than what you normally wear because you are wearing clothing underneath the coat. Size robes similarly.
If it's possible, try on the robe before purchasing to get an accurate size. If this is not possible, then use the sizing chart provided by the manufacturer. Always look at the sleeve length, especially for taller people, to ensure the appropriate size. Taller women who typically wear a medium may need a larger size for the sleeves.
References
Writer Bio
Tabitha Harwell has been writing since 2008, with articles appearing in local publications and various websites. Her background includes a career in the fashion and beauty industry. Harwell holds a Bachelor of Arts in public relations.
Photo Credits
Comstock Images/Comstock/Getty Images