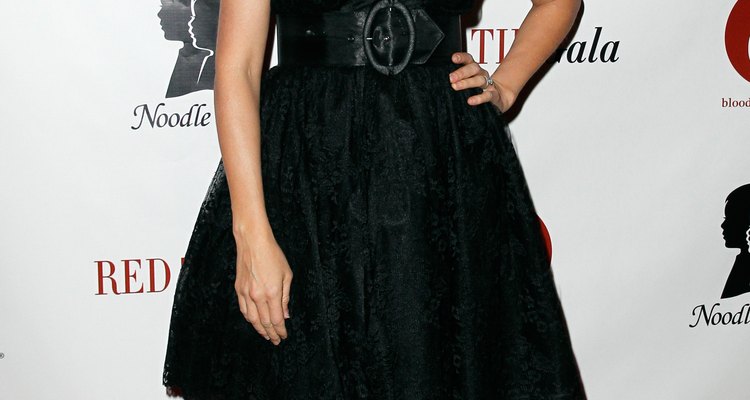 Terry Wyatt/Getty Images Entertainment/Getty Images
While it may seem counterintuitive, the key to minimizing your waist is selecting dresses that actually define the waist. Avoid sack dresses or tunics that hang straight, and instead look for pieces that create an hourglass shape by emphasizing the smallest part of your waist. No matter your body type, you can also help to minimize your waist by drawing attention to other areas, such as your shoulders and collarbone, with jewelry or detailing.
Make a Beeline for A-Line
A dress with a high-waisted, A-line skirt can help create or define an hourglass figure and minimize your waist, all while flattering your hips and thighs. If you have a fuller chest, choose a low-cut dress for evening, which will take attention away from your waist and highlight your collarbone and bust. For daytime, a long-sleeve fit-and-flare dress will keep you appropriately covered while lending definition to your shape. In general, look for dresses that hit at the knee or just below for a proportionate silhouette.
It's a Cinch
Wrap dresses, belted frocks or dresses that are otherwise cinched at the waist make flattering choices. A short-sleeve wrap dress with a V-neck and sash at the middle will direct attention to your upper body while cinching the smallest part of your waist. Or, try belting a long-sleeve shirtdress for a more tailored look. Seek out a belt that suits your body: Narrower belts are more effective if you have a pear-shape or hourglass-shape body. If you are long in the torso with a straight figure or have an apple-shape body, a wide belt can work well to create midsection definition.
Vertical Stripes
It is common sense that horizontal stripes can make your waist and midsection seem larger than they actually are; vertical stripes, however, can sometimes do the opposite. Look for pinstripes or thin vertical stripes in a shirtdress or wrap style. For a figure-hugging look, try a fitted dress with colorblocked vertical panels on the sides of the dress, which help to elongate your shape and minimize the waist in the process. Alternately, a vertically striped maxi dress that flows from the bust or has an empire waist can create the illusion of trimmer torso.
Vintage Vantage
Retro dress styles from the 50s and 60s often feature high, defined waistlines and conservative skirt lengths. These dresses can be very flattering and tend to emphasize the highest and smallest part of your waist. Keep an eye out for dresses with princess seams, which subtly create a slim shape from shoulder to hem, gently defining the waist in the process. For most body types, the structure and thick fabrics of vintage shifts and pencil dresses can also help to create and retain shape in a flattering way.
References
Writer Bio
Aiden Summer is a creative production consultant for artists, architects and designers.
Photo Credits
Terry Wyatt/Getty Images Entertainment/Getty Images