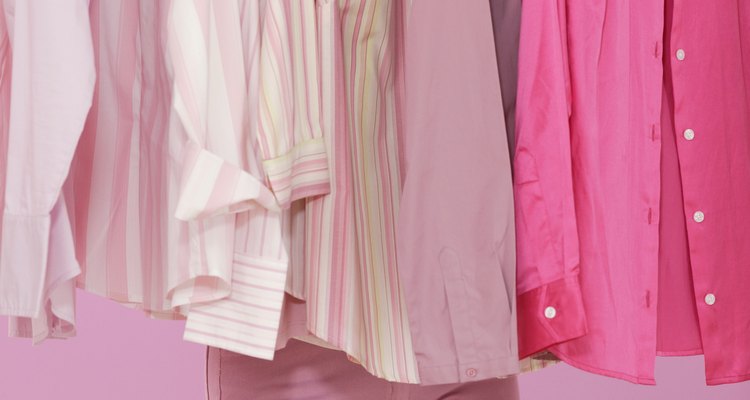 Comstock Images/Comstock/Getty Images
Blouses are a mainstay in women's wardrobes for their versatility. They are available in different cuts, flatter a variety of body types, and can be worn for formal and casual occasions. Blouses can be form-fitted and tailored for the work environment, or can be loosely worn for a relaxed setting. Blouses come in various fabrics and may also feature special patterns or adornments.
Button-Down Blouses
Button-down blouses are popular because their style can be worn by many body types and in various settings. This kind of blouse features a neck collar and buttons attached on the front of the garment (as the name suggests). The button-down style is seen mostly in formal and business settings; it complements dress pants and business suits. However, when worn with a pair or jeans or shorts, button-down blouses are appropriate for casual events.
Surplice Wrap Blouses
A wrap blouse is another great style for most body types and features a surplice collar, which overlaps fabric into a v-shaped neckline. This vertical neckline gives the appearance of a longer torso. The crisscrossed material breaks up the chest and the stomach area -- making the upper body seem smaller than it might actually be. Surplice wrap blouses are made with or without sleeves. They can be worn alone or under another garment such as a denim jacket or work blazer.
Peasant Blouses
Blouses are also available in the peasant style, which emphasizes free-flowing materials. Peasant blouses were fashionable in the 1960s and typically had a square neckline, puffy sleeves and cinched waist. Later iterations have kept one, some or all of these elements, while portraying a carefree and casual look.
An outfit that includes a peasant blouse should be matched with tight-fitting clothing for the lower body. The narrowness of skinny jeans or a pencil skirt, for example, would balance out the billowing fabric of a peasant blouse.
Patterns, Ruffles and Other Embellishments
Not only do blouses come in different style cuts, they feature various patterns, ruffles and other adornments to make them stylish and unique. Pinstripes and paisley prints dominate blouses for the work environment, while bright and multi-colored patterns are generally seen in casual attire. Ruffled and ruched blouses embody an especially feminine look as frills are added to the sleeves and/or neckline. Bows or a miniature chest pocket can embellish a blouse's design as well.
Writer Bio
Diane Bautista has more than seven years of professional experience writing for a variety of industries including fashion retail, communications technology and nonprofit. She currently works as an advertising copywriter and holds a B.A. in English from Washington State University.
Photo Credits
Comstock Images/Comstock/Getty Images