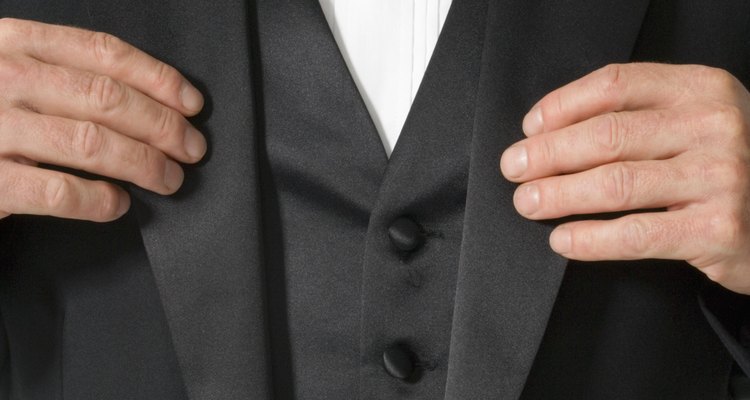 Jupiterimages/liquidlibrary/Getty Images
If your body type is slim and of medium to tall height (5 feet 9 inches and over), any of the three common tuxedo lapels – shawl, notch and peak – will suit your physical shape. However, if your body shape strays (even slightly) from this type, knowing how each lapel can complement your physical attributes will make you dress confidently and appropriately for any formal event.
What Is a Shawl Collar?
The shawl collar, also known as a roll collar or shawl lapel, is seen almost exclusively on tuxedo and dinner jackets. The shape of this lapel is rounded and does not have any notches or points. Instead, the shawl collar wraps over the shoulders and continues down the front, curving to the coat's first button enclosure.
Shawl collars are popular at black-tie affairs, weddings and evening galas and look good on most body types. The exception lies in men with extremely rounded body types – either in the face or in the torso area. The roundness of the shawl collar will emphasize the same round shape found in this body type.
Defining a Notch Lapel
When the collar's end connects to the top of a lapel at a 75–90 degree angle, this is referred to as a notch lapel. Also known as a "stepped" lapel, this style is closely associated with business suits. However, it has also been embraced in formal wear as a subtle alternative to the striking designs of shawl and peak lapels.
Notch lapels create a vertical neckline – perfect for accentuating (or giving the illusion of) a slender frame. A variation of the notch lapel is a "slim notch," which accommodates a lapel with a small width. The slim notch lapel looks great on a custom-fitted tuxedo jacket for thin and trim body shapes.
Wearing a Peak Lapel
Considered the most formal and distinguished of tuxedo lapels, the peak (or "pointed") lapel meets at the bottom of the collar and points upward. Peak lapels are worn at formal events, black-tie dinners and fancier weddings. They are popular on both single- and double-breasted suits.
The peaks of the lapels point up and toward the shoulders. Similar to the notch lapel, the pointed lapel creates a V-neck line and helps guide the eyes up the torso. This illusion is great for men of short stature or who are thin, as it helps lengthen the upper body while broadening the chest.
Choosing the Right Style
In addition to dressing for your body type, choosing among the shawl collar, notch lapel and peak lapel will depend on the dress code of the event – for example, "black tie" versus "black tie optional." A shawl collar and peaked lapels are traditional styles and perfect for black-tie affairs that require strict formalness. Notched lapels are popular and modern but carry a less dressy look. Wearing a tuxedo with a notch lapel is appropriate at black-tie-optional events where dark suits are also acceptable forms of attire.
References
Writer Bio
Diane Bautista has more than seven years of professional experience writing for a variety of industries including fashion retail, communications technology and nonprofit. She currently works as an advertising copywriter and holds a B.A. in English from Washington State University.
Photo Credits
Jupiterimages/liquidlibrary/Getty Images