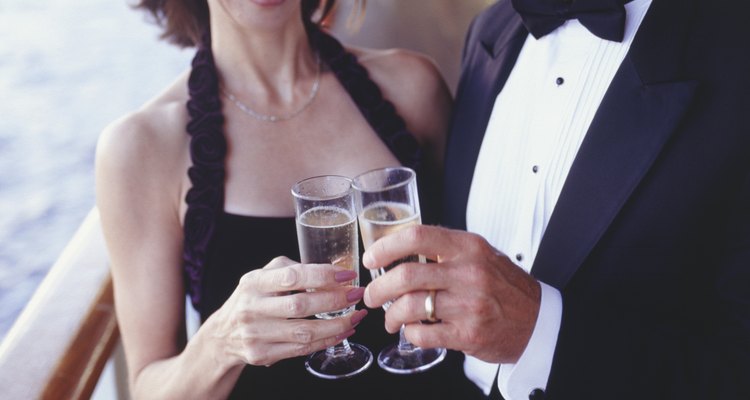 Steve Mason/Photodisc/Getty Images
Black tie is one of the most formal dress codes there is, but it doesn't have to be stuffy or stringent, particularly when it comes to a summer affair. For both men and women, a warm-weather take on black tie should retain the elegance of a classic evening gown or tuxedo, but make use of lighter fabrics and colors, and lighter, more relaxed silhouettes.
Maximize
A long gown is the traditional choice for a black tie event, and can actually be a very comfortable one in the summer. Choose a light, sleeveless gown made from an airy fabric like silk chiffon, or something that drapes well, such as silk jersey. Look for summer-appropriate pastels like coral and lavender, or bright, festive colors like turquoise or poppy. Accessorize with chandelier earrings or a statement necklace and open-toed heels.
Cocktail Length
Today's black tie dress code allows for knee length or midlength dresses. These shorter lengths are particularly appropriate in the summer heat. Look for dresses made of light chiffon or silk, in summery colors or bright floral prints. Cocktail length dresses with special touches such as lace or beading add festive flair and make them dressier. Accessorize with a statement necklace or cuff and a pair of embellished heels.
Separates
Separates are also appropriate for a black-tie event, provided that they are dressy. Try pairing geometric-print silk palazzo pants with a solid silk shell and a statement necklace. Or, wear a floral A-line skirt with a beaded silk blouse and embellished heels. Black-tie separates should be in luxe fabrics with dressy details, to make them more elegant than everyday wear.
Men
While men have fewer options than women when it comes to black-tie dressing, they can still express their personal style while remaining black-tie appropriate, particularly in the warm summer months. Etiquette and fashion experts say men should choose a tuxedo or black suit in a summer-weight fabric. However -- although experts such as Tim Gunn don't like the idea -- "Details" magazine suggests a more relaxed jacket cut or lighter color, such as a khaki tuxedo or one in tonal black with navy lapels. If you are unsure whether your choice is appropriate, check with the event's host.
References
Writer Bio
Aiden Summer is a creative production consultant for artists, architects and designers.
Photo Credits
Steve Mason/Photodisc/Getty Images