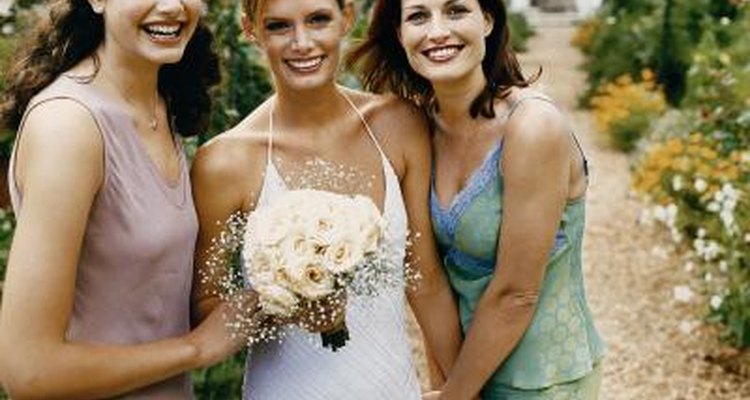 Digital Vision./Digital Vision/Getty Images
Summer-time heat and formal attire don't always mix well, but that won't stop fancy occasions from popping up during the warmer months. When the hot weather hits and you get the season's first wedding or charity ball invite, it's crucial to figure out how to dress formally without spending the day sweating and straining.
Dial It Down for the Daytime
The fashion pros at "GQ" magazine note that formal attire is traditionally intended for evening affairs only. If you have a midday summer-time event such as a wedding to attend, ditch the tux or ball gown unless the invitation specifically says "black tire required" or you are part of the bridal party. This doesn't mean that you can show up at the formal event in flip-flops, shorts and a t-shirt. But do swap out the heavy nighttime formal wear for a lighter suit or a shorter dress.
Suit Yourself (For Men)
While you will have to suffer through a summer event if the invitation specifies black or white tie -- in these cases, a tux is an absolute must -- you do have some leeway when it comes to other formal affairs. Daytime and evening weddings and parties that don't spell out the need for a tux in the invite allow men the option of going with a less sweat-provoking ensemble. Although you'll still need to wear a dressy suit, you can opt for a khaki cotton or linen version. If you're looking for a suit that makes more of a statement, sport a subtle gray or light blue seersucker style. Pair your summer suit with a crisp white or light-colored button-down, a tie and brown or black leather dress loafers.
Keep it Light
If your guy doesn't have to wear a stifling tux for a hot-weather summer affair, you don't have to go all-out and put on a floor-length gown. While a summery sundress misses the mark for a formal event, you can opt for a simple -- yet dressy -- frock made from a breathable fabric such as cotton or linen. Try a knee-length chiffon strapless look, a slightly more intricate criss-crossed halter dress or a cascading ruffled dress. For a nighttime look, the etiquette experts at Emily Post note that a cocktail dress is appropriate for a formal or black tie event. While an evening cocktail dress won't be as breezy as your daytime options, the short length will provide some relief from the heat.
Fancy Footwork
Dressing for a formal summer event means putting aside your hot-weather staples, such as beachy flip-flops, and trading up to a more structured shoe. Consider the event venue before making your shoe choice. Ladies attending an outdoor wedding may want to forgo super-high stilettos that will get stuck in the sand or grass. Instead, go with a low-heeled, embellished sandal with straps or a dressy satin flat. Likewise, men may want to skip the patent lace-ups in favor of a more matte leather slip-on loafer. Patent shoes may scuff easily on a sandy or rocky beach, and won't match a more subtle seersucker or linen suit.
References
Writer Bio
Based in Pittsburgh, Erica Loop has been writing education, child development and parenting articles since 2009. Her articles have appeared in "Pittsburgh Parent Magazine" and the website PBS Parents. She has a Master of Science in applied developmental psychology from the University of Pittsburgh's School of Education.
Photo Credits
Digital Vision./Digital Vision/Getty Images