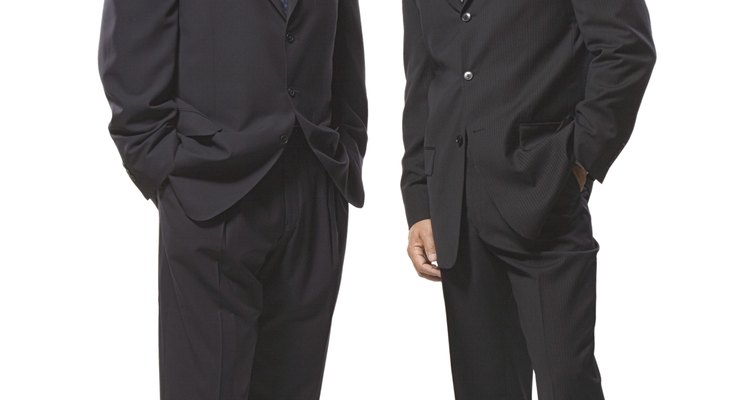 Jupiterimages/Comstock/Getty Images
Manufacturers producing men's suits, ranging in sizes from regular to long, alter patterns for specific areas -- jacket length, sleeves and pant inseam -- making length and height the two primary factors. Slim-fit, average-height men can most likely wear an off-the-rack regular-size suit, while tall men requiring long-size suits most likely need tailoring. Regardless of the size, it is important to remember a proper-fitting suit promotes an overall confident appearance for any business setting or job interview.
Regular Suit: Jacket Length
For men shopping for off-the-rack suits, keeping a length checklist in mind can diminish any fit questions or issues. For example, the jacket needs to fit properly around the neckline, generally exposing a 1/2 inch of the inner shirt collar above the jacket's neckline. If the neckline or shoulder seams droop, it is not a size regular suit jacket. Most proper-fitting suit-sleeve lengths finish at the wrist bone. If the sleeve length hem finishes below the wrist, sitting between the wrist and the fingers, the sleeve is too long for a regular-size jacket and requires tailoring.
Long Suit: Jacket Length
Tall men also need a keen eye for proper-length jackets. Long-sleeve lengths often average 1 1/2 inches longer than regular size. If the sleeve length finishes above the wrist, exposing a large section of your shirtsleeve cuff, the sleeve is too short for a long-size suit. Another key factor is the torso length. Since tall men's builds differentiate in torso and arm length, suits fitting properly at the torso may require sleeve alterations to accommodate long arms. It is also important to check the pocket placement, ensuring breast and hip level pockets rest comfortably during natural movement.
Regular Suit: Pant Inseam
Wearing pants too short or too long is a surefire pathway to committing a menswear fashion faux pas. Since most suit pant hems finish just above the shoe, one of the most visible differences between regular and long suits is the inseam length. Since regular-size men vary in height, most suits require inseam tailoring. This is especially important if the pant requires a short inseam. Always remember, if the hem bunches around the ankle or catches in the shoe's heel, the hem length requires tailoring.
Long Suit: Pant Inseam
Since tall men vary in height as well, the pant inseam most likely requires tailoring to accommodate long legs. It is also important to check for any tightness around the waist and thigh area. This is especially important for bulkier, tall men. Since most suits are produced for a variety of body types and differ in size specifications, it is important to try on a few suit versions. For example, if you are trying on the same size by two separate designers, most likely one suit fits differently than the other. This is especially evident at the chest, shoulder and sleeve, as well as pant waist, inseam and thigh.
References
Writer Bio
Mercedes Valladares is the founder of M721Organics and has been an independent designer for over 15 years. Her work experience commenced during college with manufacturers based in New York and Hong Kong. Her education includes LIM College, International Fine Arts College and design certification from the Paris Fashion Institute. She produces eco-crafting videos and writes recycling articles online.
Photo Credits
Jupiterimages/Comstock/Getty Images