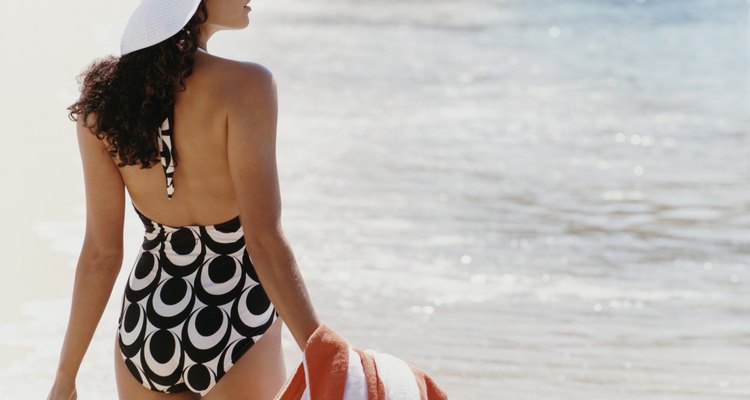 Digital Vision./Photodisc/Getty Images
It's never pleasant swimsuit shopping when you feel self-conscious about a certain body part. If your butt is larger than you'd like for the summer, take heart -- there are a certain swimsuit cuts, colors and patterns that can shrink your backside while expanding your confidence. The key is to find one that flatters all areas of your body, is well-fitted and comfortable and will hold up beachside or poolside.
One-Piece Wonder
Choose a one-piece V-neck suit that draws your eye up and away from your butt. Strapless is also a good choice providing it has bust support that lifts and accentuates. Another option is a vintage-glam suit featuring ruching that covers the behind area and stops just a bit below your bottom. The key is to make sure it doesn't extend longer than an inch past your bum. If the bottom half has a built-in skirt, it's crucial that the bust and tummy areas fit well. If the suit slightest bit loose, the skirt will be too big and will end up expanding the look of your bottom.
Slimming Colors and Patterns
Dark colors, such as navy, black, chocolate and crimson help conceal a bigger butt. When wearing a two-piece, color block your suit and wear the darker hue on the bottom. You can still wear fresh, fruity colors -- choose lemon, melon, cherry, lime and tangerine hues in small designs and patterns. The trick is to engage the eye in the pattern and draw attention away from your less-than-desirable features. Another good way to do this is to have a solid bottom half and a patterned upper half which guides the gaze away from your behind. Wearing compression fabrics and reinforced panels also helps to minimize and shape your backside.
Types of Two-Piece Suits
You don't necessarily need a one-piece to cover your butt; the right-sized two piece can be just as flattering as long as you wear the proper size. A board short is a fuller-cut bottom that supports the rear and hips when you walk, and can be topped with a cute bikini, sport or tankini top. In addition, a halter-style top helps to balance your shoulders and hips; pair it with a higher-cut bottom to give a flattering leg-lengthening effect. Additionally, adjustable bands or ties on the bikini sides will allow you to manage the coverage for a proper fit.
It's in the Details
Tiers, draping and an empire-waist lift the eye away from your bottom half. A one-piece suit that features a one-shoulder tie or strap does the same thing. Ruffles also add a bit of whimsy to your suit and act as a great way to draw the eye upward when the frill is down the center near the bust. Also remember that cut-outs, embellishments, embroidery, shiny metallic accents and other motifs are great additions and can be cleverly used on a swimsuit to distract from a bigger bum. If all else fails, a sheer sarong is always an excellent option to help you feel confident and comfortable.
References
Writer Bio
Based in Los Angeles, Lisa Finn has been writing professionally for 20 years. Her print and online articles appear in magazines and websites such as "Spa Magazine," "L.A. Parent," "Business," the Famous Footwear blog and many others. She also ghostwrites for mompreneurs and business owners who appear regularly on shows such as Ricki Lake, HGTV, Carson Daly and The Today Show.
Photo Credits
Digital Vision./Photodisc/Getty Images