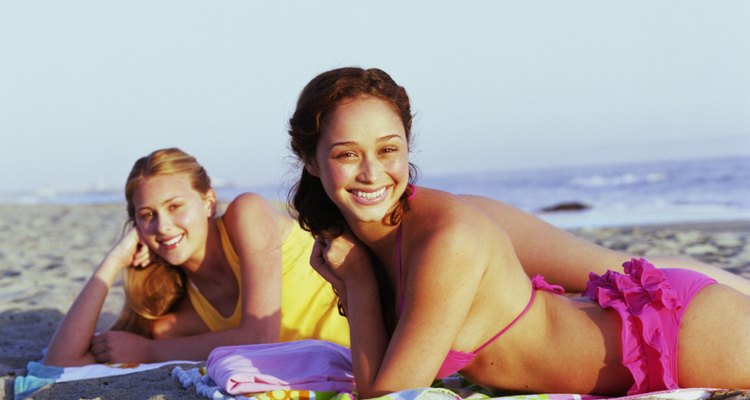 Siri Stafford/Lifesize/Getty Images
Bikinis aren't just for ladies with ultra slender bodies. A bikini can look stylish and complementary on any woman; the key is finding the best swimsuit for your body type. If you have a bit of a tummy, there are suits that are well suited to your shape, which will leave you looking like a beautiful beach babe.
The Right Waistband
Soft waistbands that cut straight across your stomach work well for ladies with a bit of a tummy. A scooped-cut band emphasizes your stomach while a straight-across cut helps to make your stomach look flatter. Try a bottom with a rolled waistband -- roll it down or pull it up to dictate your ideal amount of coverage.
Try a Tankini
If you're not comfortable exposing most of your stomach, try a tankini. A tankini is still a two piece swimsuit, but it swaps the traditional bra-style top for a tank top. This leaves a sexy sliver of skin showing on your lower stomach without baring everything, making a tankini a great middle-of-the-road selection. Tankinis with tiers, draping or ruching all help to minimize your middle section.
High Rise
Go retro in a bikini with a high-rise bottom. These bikinis come with a traditional bra top paired with a high-rise bottom. Like tankinis, you'll have a sliver of skin showing on your tummy, but the sliver will be right under your bust and above the belly button. This trendy style comes in a multitude of colors and prints, giving you a lot of options to choose from.
More Help
If you want an additional slimming boost, try a high-rise bottom with body-shaping technology built in. These bottoms will pull in and slim your midsection, leaving it sleek and smooth. Add your favorite bikini top and you're all set to rock the beach with confidence. Take the look even further and try color blocking -- a darker shade on the bottom paired with a lighter shade up top makes your tummy appear slimmer and pulls the eyes upward.
References
Writer Bio
Pamela Simmons has been writing professionally since 2009. Her articles on fashion, beauty and other topics have appeared on Denim Therapy and other websites. Simmons serves as an editor and public relations manager for CHIC.TV. She holds a Bachelor of Science in international affairs from Georgia Tech and a Master of Business Administration from Mercer University.
Photo Credits
Siri Stafford/Lifesize/Getty Images