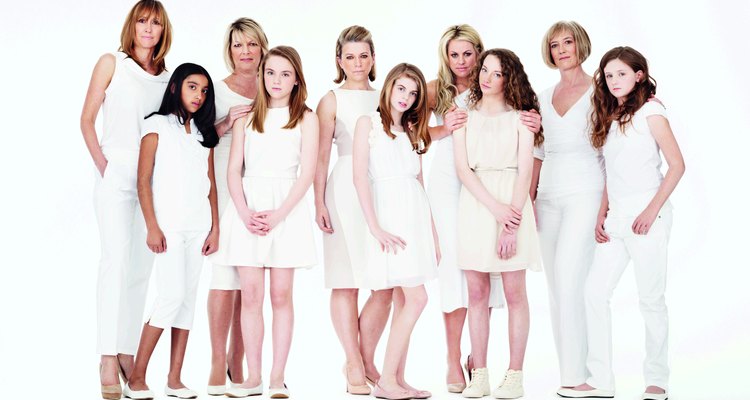 Handout/Getty Images Entertainment/Getty Images
The varieties of dress silhouettes are a designer's gift to all body types. Learning how to dress for your specific shape will enhance your figure and give you a beautifully balanced look. Flattering your feminine features is the main focus in choosing a dress that works for you. The important thing to remember is that there are many sizes within the same body type. This means that a woman who is a size two and a woman who is a size sixteen can both share the same shape.
Straight to the Point
If your shoulders, bust, waist and hips are all around the same measurement, then your body type is straight, or rectangular. Since you already have a good balance between the top and bottom half of your figure, you want to focus on creating a more defined waistline. This can be done by adding volume to your shoulders, bust and hips. Dress silhouettes to aim for are baby dolls and A-lines. Shift dresses and shirt dresses cinched with a waist belt are also great choices.
Down Under
Pear shapes carry most of their weight below the waist. With a smaller top frame and wider hips, your torso usually appears long and lean. Wearing a strapless or fitted open neck dress will draw focus towards your upper body. A-lines and empire waistlines keep the attention on your slimmest point while disguising your hips and thighs.
An Apple a Day
Narrow hips and a wider waist, with the smallest point being above the natural waistline, is considered an apple body type. To conceal any stomach bulge and create fuller looking hips, wear an empire waistline dress. A-line shifts are also great choices because they pull the focus upwards and create an illusion of the hourglass figure. Try dresses with neck details to compliment your shape or V-necks to create a longer torso.
The Love Triangle
Opposite to the pear shape, you have wider shoulders and a broad chest with a small waist and narrow hips. This body type is often called the inverted triangle or the wedge. This shape looks athletic with your best feature being your lean legs. Dresses with a full skirt -- especially with details on the bottom hem -- draw attention downwards. A bodycon dress with one shoulder strap or a slim V-neck create the illusion of a smaller upper half, while still flattering your slim waist and showing off your legs.
It's a Curvy Road
You're a lucky girl if you have the hourglass frame. Your shoulders, bust and hips are all the same size and you have a tiny waist. Dressing yourself is less about creating an illusion and more about showing off your curves. The best dress silhouettes for you are sheaths and wrap dresses, but you can pull off almost any style with a belted waist. Don't wear anything that hides your classic feminine figure.
References
Resources
Writer Bio
Los Angeles-based writer Elana Kluner has been writing internationally since 2008. Her work has been published in M2Women Magazine, DANZ Quarterly, Central leader, Western Leader, The Other Duck and Spa Violet. Kluner graduated with a Bachelor's degree in creative writing from Auckland University of Technology and studied fashion design at the Fashion Institute of Design and Merchandising.
Photo Credits
Handout/Getty Images Entertainment/Getty Images