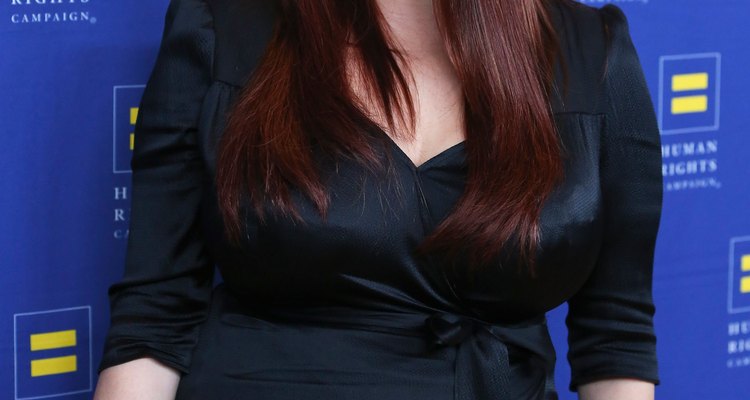 Imeh Akpanudosen/Getty Images Entertainment/Getty Images
Got a rounded silhouette? A large belly and behind? Be sure to keep the structure of your look in mind. From blazers and blouses to skirts and shoes, it's all about shaping your figure with clean, strategic lines. Use color, shape and other visual elements to lead the eye away from your midsection and up to your top half.
Cool and Casual, Not Complicated
Feeling laid-back? Slip into some cute and comfy flared jeans. Flares toward the bottom of your frame will balance the roundness of your middle. Skip the low-waisted jeans and go for those that cut across the belly, as they'll give a bit more support to your midsection. Don't hide in baggy sweatshirts, and steer clear of empire waist and baby-doll tops, which overemphasize a round belly. Instead, try T-shirts with either square or wide v-necks. These necklines are just low enough to show a bit of skin, but draw the eye upward and away from your midsection. As a bonus, their angular shapes add bold structure to your curves.
Working Your Shape at Work
When it comes to workwear, a blazer is your best friend. A fitted blazer will provide structure, which benefits your rounded shape. Pick one that boasts a bright color, strong shoulders or a pretty pattern in a chic, professional-looking style. Complete the look with trouser-cut or wide-leg pants (the cut of the trouser style is just a bit slimmer than that of the wide-leg), both of which flow subtly from your frame.
Look Awesome After-Hours
Want to liven up your look for an evening out? Try a dressy tank with shoulder details (sequins, studs, slits -- take your pick!) or a sleek off-the-shoulder top. Statement earrings plus an off-the-shoulder top are sure to keep all eyes upward. You can create a flowing, romantic style in a knee-length, A-line skirt (the slight flare at the hem will be kind to your behind), or keep it steamy with a pair of skinny jeans. Yes, you can wear skinny jeans -- just keep their height, length and color in mind. Wear them high-waisted for tummy support, a bit long (let them bunch up slightly an inch or so past your ankles) and in a dark wash to slim your bottom. A wrap dress with a hemline that hits a few inches above the knee shows off a little leg and cinches the waist.
Stunning in Swimwear
Seeking out swimwear? There's no need to dive deep; consider a one-piece with embellishments on the top half, like ruffles or a bold print. Try a tankini; the top half is long enough to keep a round belly under wraps. A cute cover-up will conceal your bottom half and streamline your shape for a sizzling summer look. High-waisted bottoms will create a cool, retro look and conceal a round tummy. Try ruching around the belly for cute camouflage around the belly area, per Fitness Magazine.
References
Writer Bio
Whitney DeGroat began her writing career in 2007 at "The Springfield Paper." She has also written for newspapers such as the "Springfield News-Sun" and "Dayton Daily News" and served as a fashion columnist for "The Torch." DeGroat received a Bachelor of Arts in English at Wittenberg University.
Photo Credits
Imeh Akpanudosen/Getty Images Entertainment/Getty Images