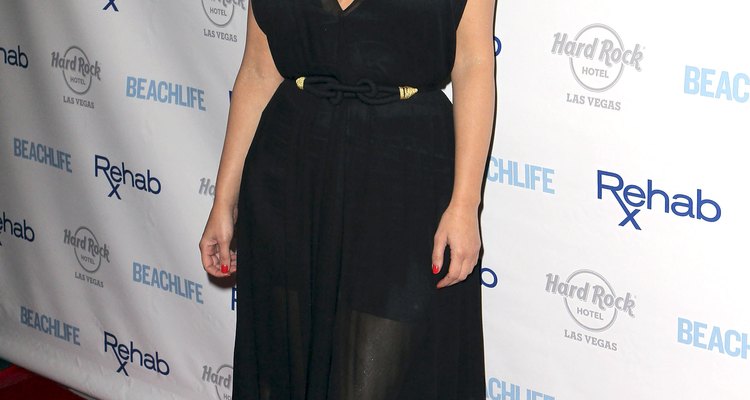 Jeff Bottari/Getty Images Entertainment/Getty Images
If you're got some extra assets back there, it can be tough to find pieces to complement your body. When looking for dresses, many of the cuts you find will fit the bottom area too snugly, leaving you feeling uncomfortable. Happily, there are still plenty of dress styles that will fit your figure and flatter your curves.
A-Lines and Full Skirts
Silhouettes with full skirts work perfectly for ladies with bigger booties. A-line skirts nip in at the waist before flaring out in a triangle shape, while the 1950s half-circle style also boasts a full skirt that loosely falls over the behind. All you have to worry about is the dress fitting your upper half, and let the remaining fabric nicely disguise your backside.
Empire Waists
Dresses that define the waist are much more flattering than ones that are loose all over. Empire waists will do the trick. They're fitted up top and become flowy right under your bustline, so you'll be able to rock a cute dress that won't be clingy on your bottom half. If you don't have an empire-waist dress, belt a flowy dress or tunic to create the same shape.
Color Camoflauge
Use colors to balance things out. Try a color-blocked dress that is dark on the bottom and light on top. If you don't want to go black on the bottom, try other deep shades like navy, charcoal, burgundy and forest green. Then choose a lighter blouse and your frame is instantly balanced out. Darker shades will slim you while lighter shades pull the eye upward.
Flaunt Your Assets
Don't hide everything -- be proud of your body's strong features and show them off. Just like lighter colors draw the eye upward, so do flattering necklines, so show a little skin up top. Sleeveless and spaghetti-strap dresses will show off your arms, making that part of your body the star of the show. Try a maxi dress with a deep v-cut, for example, which will show off a bit of decolletage while concealing your bottom half.
References
Writer Bio
Pamela Simmons has been writing professionally since 2009. Her articles on fashion, beauty and other topics have appeared on Denim Therapy and other websites. Simmons serves as an editor and public relations manager for CHIC.TV. She holds a Bachelor of Science in international affairs from Georgia Tech and a Master of Business Administration from Mercer University.
Photo Credits
Jeff Bottari/Getty Images Entertainment/Getty Images