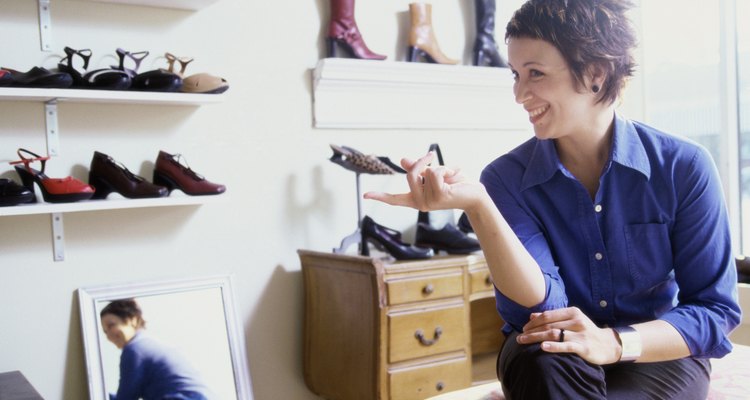 Purestock/Purestock/Getty Images
In the United States, shoes are sized for length and width. Nine widths are available, ranging from AAA (narrowest) to EEE (widest). For men, a D width is considered a medium; for women, a medium is a B width. For comfortable shoe-wearing, it is important to get your width right.
Shoe Width
In order of narrowest to widest, the nine shoe widths available in the U.S. are: AAA, AA, A, B, C, D, E, EE, EEE. As such, only the A and E sizes are further divided into sub-sizes. At the narrow end (A), additional letters indicate a narrower width, whereas at the wider end (E), the more letters equals a wider width.
D Width
A D-width is considered a medium for men and a wide for women. It measures between 3 and 5 inches across the bottom of the ball of the foot, depending on your shoe size. For instance, in men's footwear, a size 10D is 4 inches across, while a size 14D is 4.5 inches across.
E Width
An E width shoe is considered a wide for men and extra wide for women. Measuring at the bottom of the ball of the foot, an E width stretches between 3.2 and 5.2 inches, depending on foot size. For men, a size 10E is 4.2 inches across, while a size 14E is 4.7 inches across.
EE Width
EE width shoes are considered extra wide for men and women. Not all manufacturers carry EE widths, and women's EE choices, historically, have been limited. However, options have improved over the past decade, at least in part because of the increasing sales of women's shoes to transgendered individuals. EE width shoes measure between 3.4 and 5.4 inches across the bottom of the ball of the foot, depending on shoe size.
Proper Fitting
To best ensure you are wearing the correct shoe width, have your foot measured at a shoe store. Even after you stop growing, your foot can grow in size, often because of weight gain or water retention. Additionally, try on multiple brands and styles of shoes and walk around the room in them. You want your feet to feel supported but not squeezed.
References
Writer Bio
Candice Mancini has always loved matching people with career paths. After earning her master's degree in education from the University at Albany, she spent a decade teaching and writing before becoming a full-time writer. Mancini has published articles and books on education, careers, social issues, the environment and more.
Photo Credits
Purestock/Purestock/Getty Images